ADD_THIS_TEXT
There is both an art and a science to writing an effective email.
And with all due respect to content marketing, email is the true king. Pound for pound, nothing delivers better results:
To summarize, email is popular – the number of worldwide users is expected to hit 4.3 billion by 2022 – powerful, and effective. It works for lead generation, acquisition, and retention. It's the consumer-preferred communication channel for retail, travel and hospitality, entertainment, non-profit, digital media, publication, and many other industries.
PREFERENCE OF COMMUNICATION FROM RETAIL BRANDS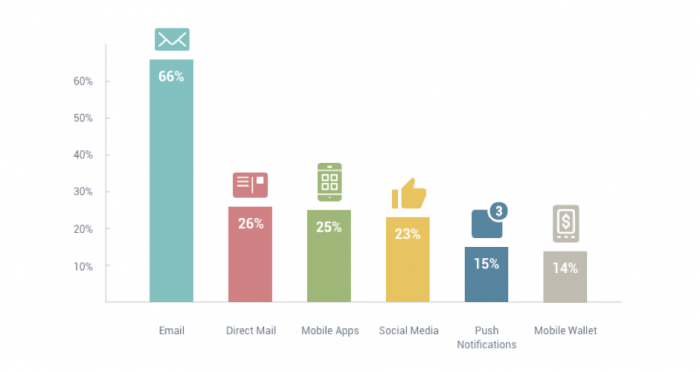 Point of story? Use it. If you're not yet, start today. And if you are already, use it more often.
That's the good news. The 'bad' news? It's not as simple as cranking out quick messages and sending them out. To do it well, you need to study it, practice it, track it, and tweak it.
Stick to best practices, stay abreast of changes and trends, try a few battle-tested formulas, and automate whenever possible to squeeze every drop of potential from it.
For example, try these tips and tricks to make a good tactic even better:
Your email message needs to be short, concise, and personalized. And you absolutely, positively must follow-up on unanswered messages.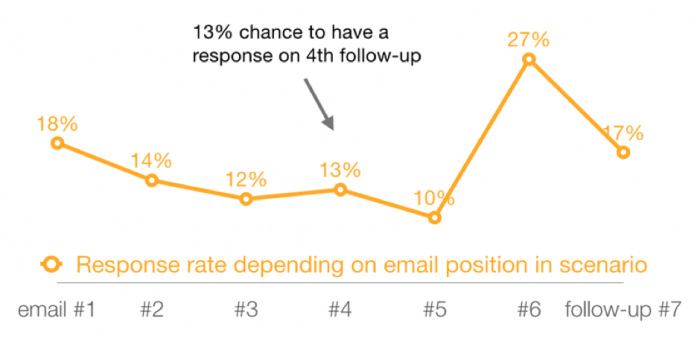 Another study from Yesware showed a bigger drop at each subsequent message, but the response rates were still high enough to make it worthwhile.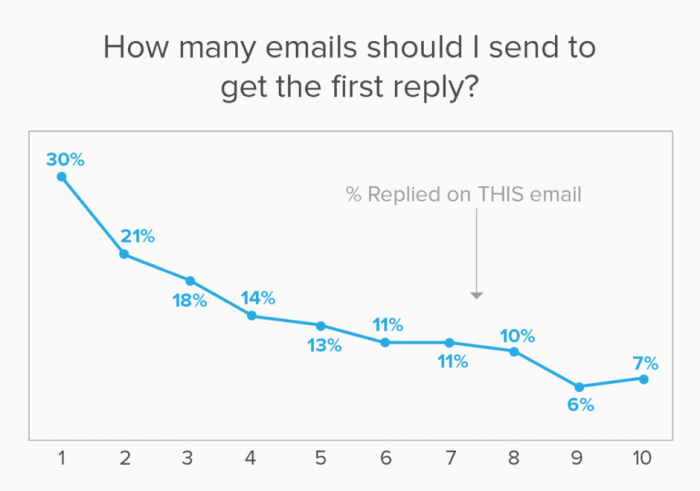 The more messages you send, the more opportunities your recipient has to respond to you. But don't just send the same exact message seven times. That will annoy your target, damage your reputation, and possibly get you relegated to the spam folder (where businesses go to die).
Just as there's an art and science to writing an initial email, there's a separate art and science to writing an effective follow-up email. They may be the same species, but they are most definitely different breeds.
When it comes to email marketing and outreach, it's follow-up, follow-up, follow-up.
The Secret Sauce
That said, your subject line is even more important in your follow up email. It's your calling card, your introduction. It's what gets you in the door. David Ogilvy famously said that your headline is 80 cents out of your dollar.
Your subject line is your headline. Spend that 80 cents wisely.
You need compelling and enticing email copy, of course. But if your subject line falls short, no one is going to see it anyway.
Ready to try a follow-up campaign? Give your follow-up subject lines a shot in the arm with these 9 tips.
1. Don't Be Afraid to Ignore Conventional Wisdom
There are a lot of dos and don'ts on the web when it comes to, well, everything. And most of it is good advice.
But sometimes it's worth the risk to toss it all out the window and see what happens. The results might surprise you.
For example, most how-to guides warn about using emojis in your subject lines because it makes you look amateurish and grabs the attention of spam filters.
However, subject lines with emojis have a higher read and placement rate than those that are text-based, especially around the holidays.
"Emojis definitely stand out in a crowded inbox, and grabbing the reader's attention is an important element of email engagement. There aren't a lot of email marketers using them today, so there's a novelty factor involved." ~Tom Sather, Sr. Director of Research at Return Path
Furthermore, spam trigger words like 'free' are best avoided, but a select few might actually increase your open and click-through rates when used sparingly. Because everyone ignores them, these words can make your email stand out in an inbox. The only way to find out? Test and see.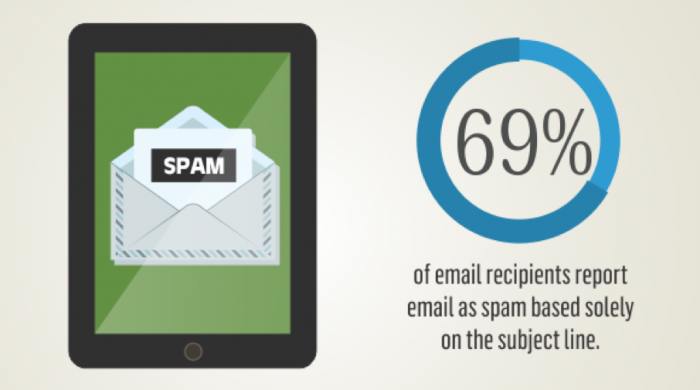 2. Refer to Previous Emails
Consider the amount of emails we receive on a typical day. It's in the dozens, if not hundreds, so anything you can do to draw attention to a previous connection – no matter how tenuous – is worth the effort.
If an email is a follow-up email, point that out in your subject line. Maybe the recipient read your previous message and meant to respond, in which case you're in. If not, he or she may at least recognize your name and click to see what you have to say this time. Worst-case scenario? Your name will sound vaguely familiar – giving you an edge over the other 32 emails clogging their inbox – while your reference to a previous message seals the deal.
3. Add More Value
A follow-up email that just repeats the previous one verbatim – or even in a different way – is not going to convert. It's been said that insanity is doing the same thing over and over again and expecting a different result.
It won't happen.
Your follow-up subject line needs to sweeten the deal with a coupon, discount, or limited time offer, highlight a different benefit, or appeal to a different emotion.
Give them a new reason to open your second (or third, or fourth) email that they didn't have before. Hit the right trigger, and they'll click and convert.
If at first you don't succeed, try, try again.
4. Consider Friction Points
Put yourself in the shoes of your intended target. Why would that person not respond to an email? If you can identify it, you can address it in your subject line.
Too expensive? Offer a discount. Security concerns? Demonstrate your trustworthiness. Wrong pain point? Switch it up.
To do this, you need an intimate understanding of your target audience, and you can get that from the creation of detailed buyer personas. You have those, right?
Identify and remove the friction points = a higher open rate.
5. Use Your Real Name
Ever get an email from info@example.com or sales@example.com? We all have. Ever felt compelled to open it? Probably not.
We respond to people, not departments. A quick fix for your subject line or sender field is to use your real name.
Use the same name in each follow-up message. Names mean real individuals, not bots or spam.
Hubspot increased both the open rate and click-through rate simply by changing the sender from "Hubspot" to "Maggie Georgieva, Hubspot."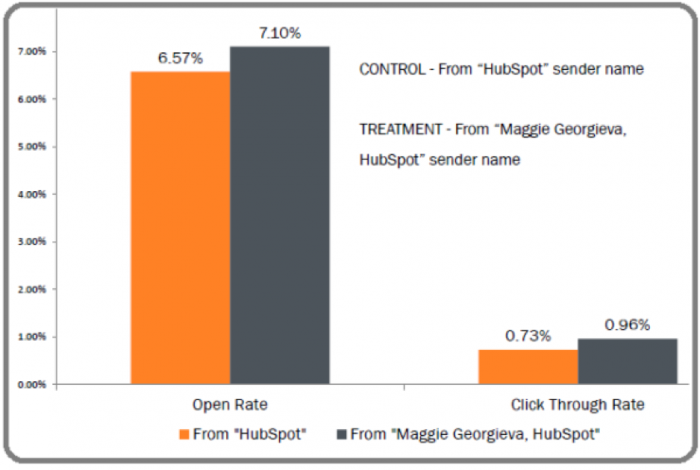 How's that for a quick win?
6. Tell Them What's Inside
When it comes to our inbox, we don't like surprises. Your subject line should explicitly state what is in the email. No cutesy puns, no word play, just a simple statement of fact.
If it's an invitation to a free trial, say that. If it's a download link for your new ebook, tell them so. Clear beats clever every day of the week.
7. Benefit, Logic, or Threat?
The most effective subject lines usually fall into one of three broad categories: benefit, logic, or threat.
Benefit? Highlight an advantage to the reader. Logic? It's something everyone wants or needs, and appeals to common sense. Threat? Create some urgency and/or play on their fear of missing out (FOMO).
If your initial email utilizing benefits didn't get a response, try a subject line that leans on logic or threat. Mix it up.
8. What NOT To Do
I've already suggested you ignore conventional wisdom at least sometimes. That doesn't mean you should do it all the time. Some things are taboo for a very good reason.
Five of the best of the worst? Using re: or fwd: in your subject line, having way too many emojis (one, maybe two, at most), YELLING IN ALL-CAPS, spelling mistakes, and more than one spam trigger word (and even when you use one, it should be a limited-run test scenario).
Don't do any of those.
9. Test, Test, and Test
Finding what ultimately works best for you and your recipients is going to be a trial-and-error affair. So try. Fail. Hypothesize and test your subject line ideas to confirm and validate.
Keep trying. Keep testing. The better you get with them, the more your email copy will see the light of day (so keep trying, testing, and learning about that, too).
It does get easier. And faster. And more efficient.
Spend your 80 cents wisely so you can get more from the remaining 20. Subject lines matter.
What's your go-to formula for scintillating subject lines? Leave your ideas in the comments below:
ADD_THIS_TEXT