Entrepreneurship is like walking on a slippery floor.
You must find your perfect balance to keep walking. That's what most tools for entrepreneurs promise you.
However, it's still a battle when choosing the best tool that suits your need. You must consider your budget, features, and ability to integrate with your other preferred business tools.
Lucky for you, in this guide, we've researched the top 15 tools for entrepreneurs making headlines in the world.
Just by reading this article, you'll get an idea of what the tool is all about and if it 100% fits your goals.
Let's check them out.
Are you a hands-on type of entrepreneur? If you don't want to read this gigantic piece to the end, you can try out the most accurate prospecting tool – voila Nobert. We give out 50 free leads to start you off. Sign up with this link.
Jump to sections
Top Prospecting Tool: Voila Norbert
Getting business deals is slowly changing.
Traditional ways like giving business cards or print media are slowly getting obsolete. This is giving way to new forms that are based on building relationships.
Cold prospecting is one of them, and Voila Norbert is leading all the way.
Why so?
Effective prospecting is anchored on getting the most accurate contacts. It increases your success rate depending on the tool you're using.
Norbert boasts a 77% accuracy rate (according to Ahrefs), which is far much better when compared to most of our competitors.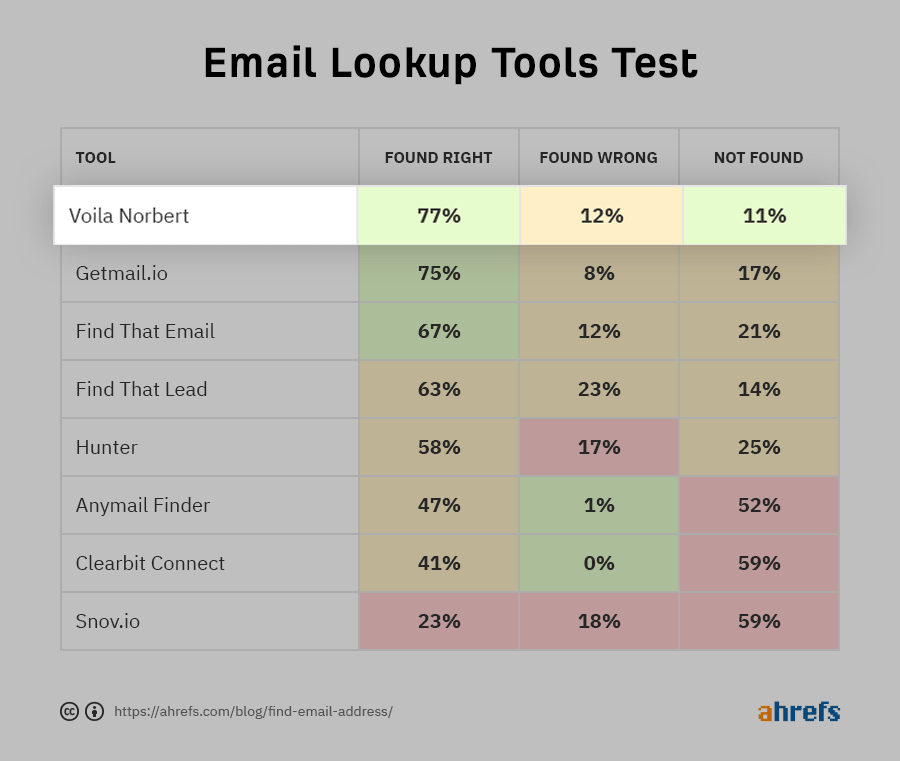 In addition, we have some pretty robust features that make your prospecting simple. Here's what you need to know.
Features
Norbert lets you search emails using the individual email finder. All you need is your prospect's name and domain address. You'll put the data into the Norbert search magic box and click "search. It spits back the most accurate email in a few minutes.
The most popular feature is the chrome extension which lets you find prospects in real-time. For example, you can use it to extract the email address of a promising business owner you've found on LinkedIn.
Norbert has a huge list of chrome extensions. This includes big shots like salesforce, Hubspot, Sendgrid, and Zapier. It eliminates the need of using too many tools at once to do multiple tasks.
Norbert's verification feature comes in handy when you have a list of emails that you want to verify. It cleans the list by removing inaccurate emails to maintain a healthy sender score.
If you want to send drip campaigns and automated emails for your prospecting, you can integrate it with Mailshake – Norbert's sister company – to make the process quicker.
Pricing
Norbert's pricing is quite similar to most email outreach tools. You get four pricing options as shown in the screenshot.

But you will only notice the difference by taking a microscopic look.
For example, the valet plan gives you 1000 emails and goes for $49/month. The next plan doubles the price but gives you five times the number of leads.
The premium plans follow the same trend.
You'll notice that the plans per email decrease when you upgrade to the next plan, meaning you get more emails by paying less.
As you can see, the pricing model is economical and groomed for entrepreneurs who want to scale.
You can get started with Norbert today. Sign up using this link and get 50 free emails for a test drive.
Top Cold Outreach Tool: MailShake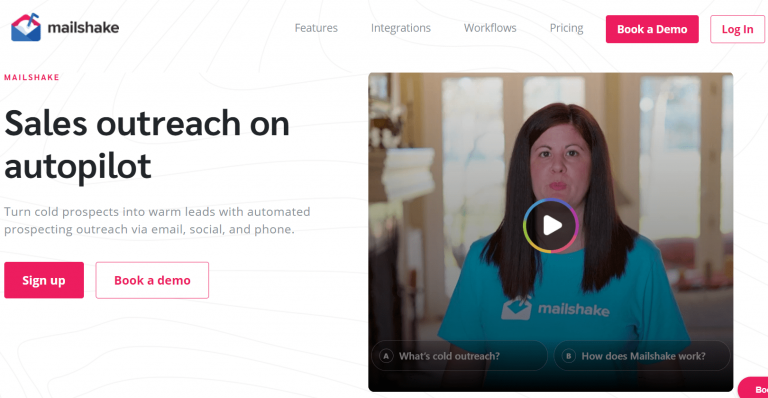 After prospecting to get contacts, there's outreach…
And Mailshake is well-prepared to make your cold outreach a success. It comes with all the tools to contact the prospects you got from Voila Nobert and potentially get more clients.
The special thing about Mailshake is that it's not only a cold outreach tool. You can also use it as sales engagement software.
In general, it's a sales tool that helps you create the right message for the right people – which is a crucial step in outreach.
Features
Mailshake's lead activity is the most powerful feature you'll come across. It gains visibility and monitors your email open rates, clicks, and replies from your cold outreach campaign.
The A/B testing improves your performance by testing your emails, whole marketing campaigns, and follow-ups. This way, you can tweak whatever deems necessary for higher conversions.
The lead catcher lets you manage leads right from Mailshake's dashboard. For example, you can mark leads as won or lost and also get a bird' eye view of each prospect.
Probably, the most reliable feature in Mailshake is the cold calling feature. It allows you to integrate cold calls and emails, which adds punch to your outreach.
Price
Mailshake gives you two pricing options, one for email outreach and another for sale engagement.
The former costs $59/month and the latter $99/month.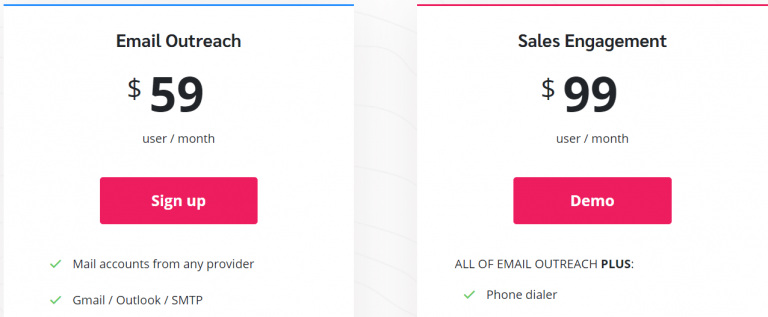 Top Email Management Tool: Rightinbox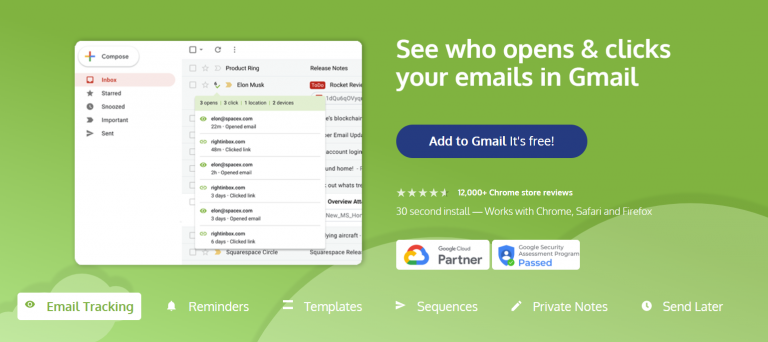 Right Inbox is another Voila Norber's sister company. Both tools kind of do different tasks for the same platform.
They're all about emails. While Norbert finds prospects' emails, Right Inbox helps you in managing your Gmail inbox.
In short, Right Inbox lets you do what Gmail doesn't offer – talk of followups, email tracking, and email scheduler.
This way, you'll spend less time in your inbox while still achieving more. So how perfect is Right Inbox? Let's have a look at some of its features.
Features
For busy entrepreneurs, knowing who opened or read your emails tells a lot about your prospects. Right Inbox's email tracking feature does just that. It lets you know if your prospect opened your email, how many times, and at which time.
It's time-consuming when you have to follow up on a prospect who hasn't replied to your email. RightInbox's email sequence cuts the time wastage as it allows you to create automatic follow-ups. They're activated when the prospect fails to respond past the period you set.
While the latter is still manageable, it's still easy to forget to reply to important emails. Email reminders send you a nudge when you don't reply to an email for a long time.
Pricing
Like Mailshake, Right Inbox has two pricing plans.
You either subscribe to the monthly plan costing $7.95/month or the yearly plan that goes for $5.95/month. Both plans give you unlimited features.

Top Email Analytics Tool: EmailAnalytics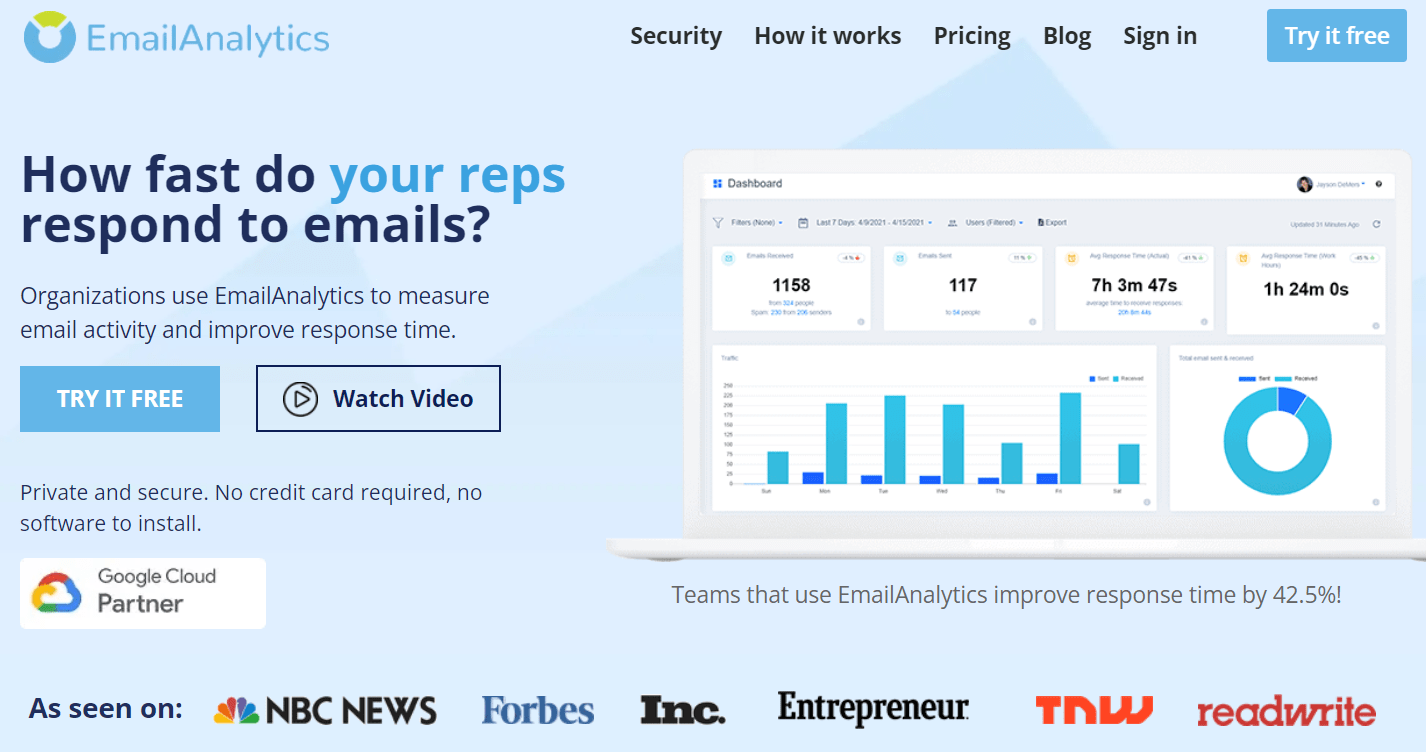 If you're more of an analytic type of entrepreneur, then you will love this software…
Not for the name, of course, but for the comprehensive statistics, it brings to the table.
Email analytics is one of the most sought-for business tools when you want to figure out where you're losing your productivity.
Features
Email analytics shows you the total number of emails you've sent and received every day. The feature also shows you the number of people your team corresponds with and the spam emails they receive.
The response time breakdown tells you how long it took to reply to your emails. It does this using an insightful appealing chart.
The interactions feature reveals which prospect sends you the most emails, your team's average response rate, and the time it takes for the prospects to respond to your emails.
With the team management feature, you can add your team members to email analytics and monitor their performance right from your dashboard.
Pricing
You get three pricing options, as shown in the screenshot.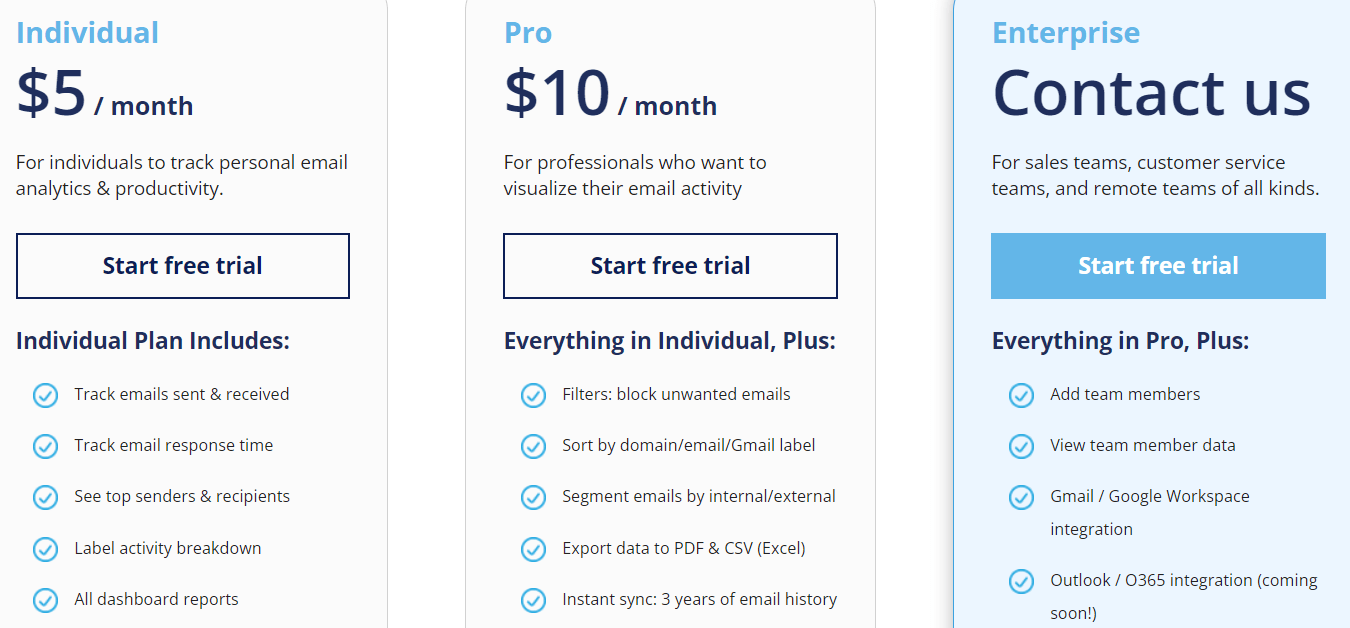 The pricing is quite affordable. The "individual" plan goes for $5/month and gives you essential features.
To get most of the tools, you have to subscribe to the "pro" plan for $10/month. There's also an "enterprise plan" for huge sales teams and customer service. Reach to them to get a customized price.
Top Team Video Conferencing: Google Hangouts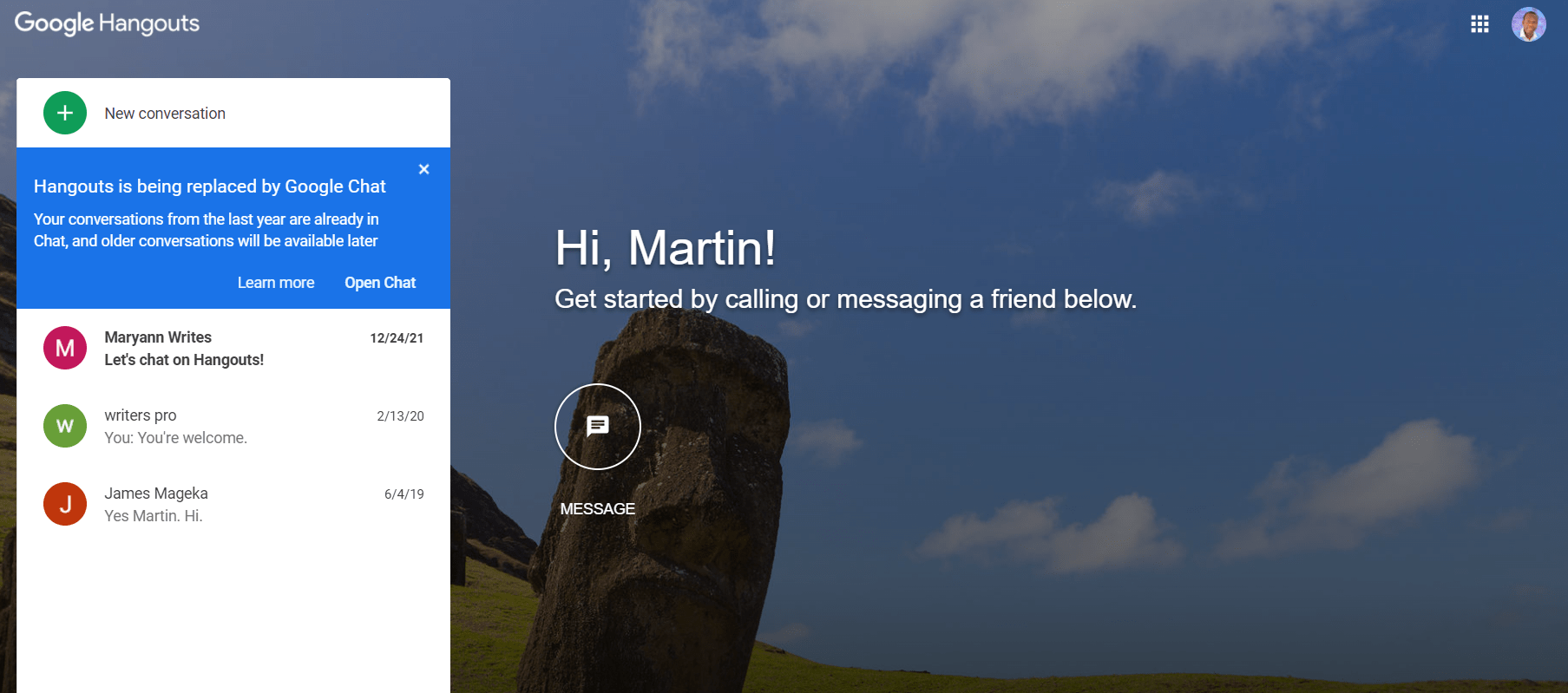 To many people, Google hangout isn't the first choice when looking for a video conferencing tool.
One of the complaints people bring across is that Google offers so many products that are similar. These include Google chat, Google meet, and now, Google Hangout. And there's some truth in that.
While that's a downside, Google hangout is a communication tool with a lot of advantages. Most importantly, it's extremely easy to use and very simple. Anyone, even those slightly familiar with technology can use it.
Features
Like any other Google product, Google hangout integrates with all the Google Workspace apps. The integrations save a lot of time as you don't have to use displaced Google apps.
Google Hangout also comes with instant video calling, voice calling, and messaging app. These allow you to get in contact with members of your team who are not in your country without needing their phone number.
You're not tied to your desktop to use Google Hangouts. Instead, the mobile app got your back whenever you want to call someone urgently. The app is also a flexible cross-communication tool between desktop and mobile users.
Price
Google hangout is free, and anyone with a Google account can access it. Without a doubt, it's the perfect option to consider if you don't want to spend a fortune on conferencing.
Top Design Tool – Canva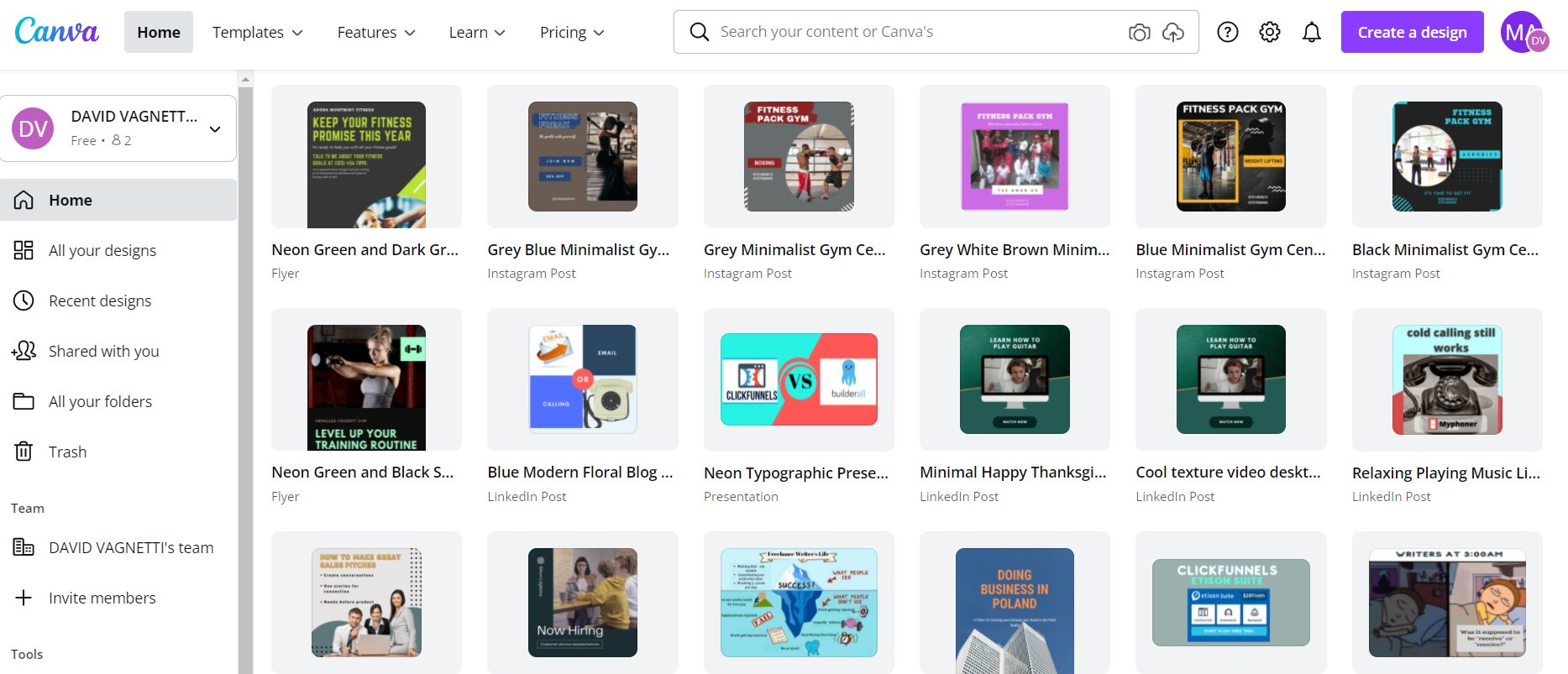 Anyone looking for a graphic design tool will first stop at Canva.
It's the most popular designing tool for entrepreneurs, web designers, bloggers, and social media managers.
Canva isn't popular by chance. It's by far the simplest and most reliable graphic design software. A tool like photoshop which has ton of advance features like blurring the background, though ideal for sophisticated designs, will take a long time to learn.
Canva, on the other hand, makes designing simple and fast. Thanks to the drag and drop editor which anyone can learn to use.
Features
Canva has over 400k templates ready for customizations. This is more than enough to get you started. You just need to choose a template with a design you prefer and customize it to your liking.
It gives you access to millions of photos and videos on free stock photo sites like Pexels that are integrated inside it.
If you have a photo that you want to improve in presentation, you can use the photo effects feature. It's available at the top of the editor and appears when you select your photo.
Like most Google Apps, Canva lets you collaborate with your team. You can coedit and cocreate files in real-time. This increases your efficiency and avoids the back and forth when your designer has already completed a task.
Pricing
Canva's free plan is suitable for average users. It allows you to create 10 -15 designs per month from 100 design types and 250,000 templates.

If you want to create more designs, the pro plan is definitely what you need. It costs $119.99/ year or $12.99 per month. You get access to all the templates, millions of graphics, and all other premium features.
If you want to go bigger, you'd consider the enterprise plan. It gives you extra features like design workflows, brand kits, and unlimited storage. Reach out to the team to get customized pricing.
Top Project Management Tool – Trello

Trello offers the most collaborative way to organize and assign tasks to your team.
How it works is quite simple. It has a board which you can divide into different portions.
The divided portions are known as cards and follow the kanban list structure.
You can add your team and place them on different cards named after a task. You will communicate on that card as you follow up on their progress.
Features
Make Trello boards more visual by uploading your own photos or from Unsplash. The images are set as the front cover on your Trello cards.
The advanced checklists come in handy when you want to align your team on tasks. It allows you to add a checklist to any card. This way, it's impossible for your team to get confused about who's doing what.
Trello's butler automation is the feature you need to build better workflows. It can set up automation, commands, and rules on your Trello board, which cuts down repetitive work.
Price
Trello has an incredible free plan that gives you a test drive of what to expect.
But as a busy entrepreneur with a huge team, you need a paid plan that gives you more features and capabilities.
You can choose either of the three plans below depending on your needs and team size.

Top Social media tool – Buffer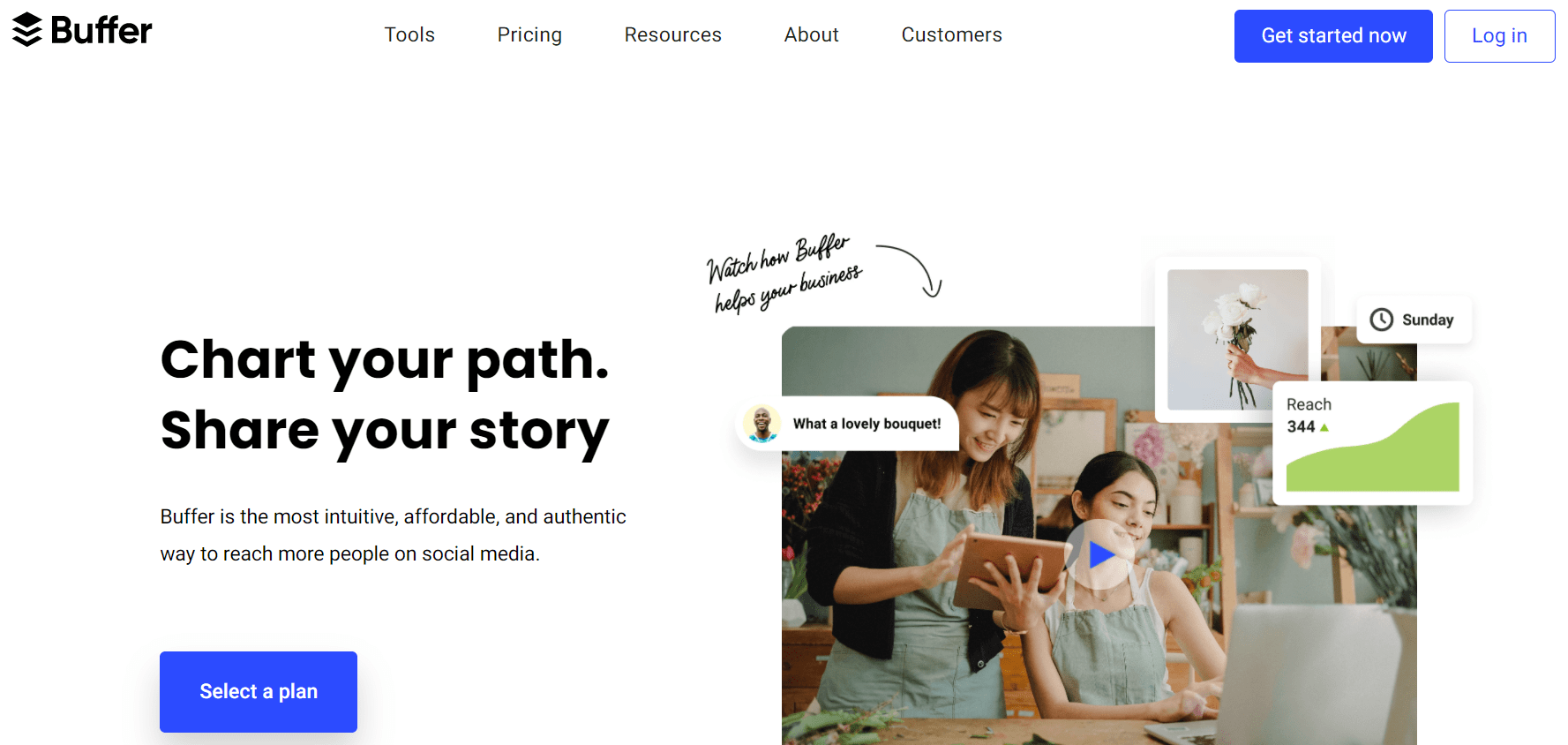 Regardless of the industry, you're in, a powerful way to seal your brand messaging is through social media.
And there are numerous social media tools that can help you to nurture your audience. But Buffer has proven to stand out.
Get this first, though.
Buffer isn't the best tool when it comes to the number of integrations, post queuing, and task management.
But one thing most other social media tools can't Buffer is in pricing. If you have a limited budget for a social media tool, it's the most reliable tool to consider
Not only that, Buffer still boasts one or two unique features anyone would love.
Features
You can collaborate and plan your posts for future posting on the fly. This gives you more time to focus on revenue-generating strategies while your social media campaign runs on autopilot.
Buffer offers one of the most reliable customer engagement features to respond to comments fast. For example, it allows you to skip to important comments using hotkeys and labels.
A social media campaign isn't practical if you don't have insights into your past campaign. In this regard, Buffer has powerful social media analytics that tracks the growth of your reach, following, and engagement.
Price
You can use the free plan if you don't want a full-suite plan.
It gives you basic publishing tools and a landing page builder for your websites. If you need to go big, you can choose the "essential plan" that costs $5/month.
You get all the features you need to manage unlimited channels. In addition, it gives you engagement tools, analytics tools, planning, and publishing tools.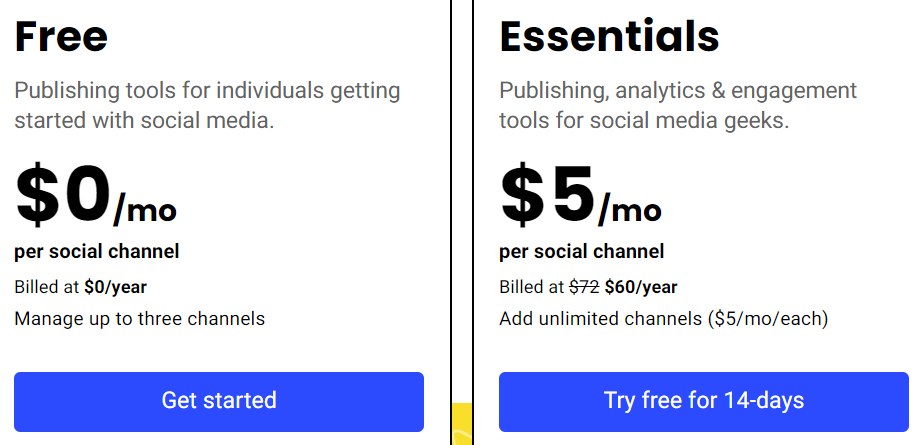 Top Startup Talent Sourcing Tool – AngelList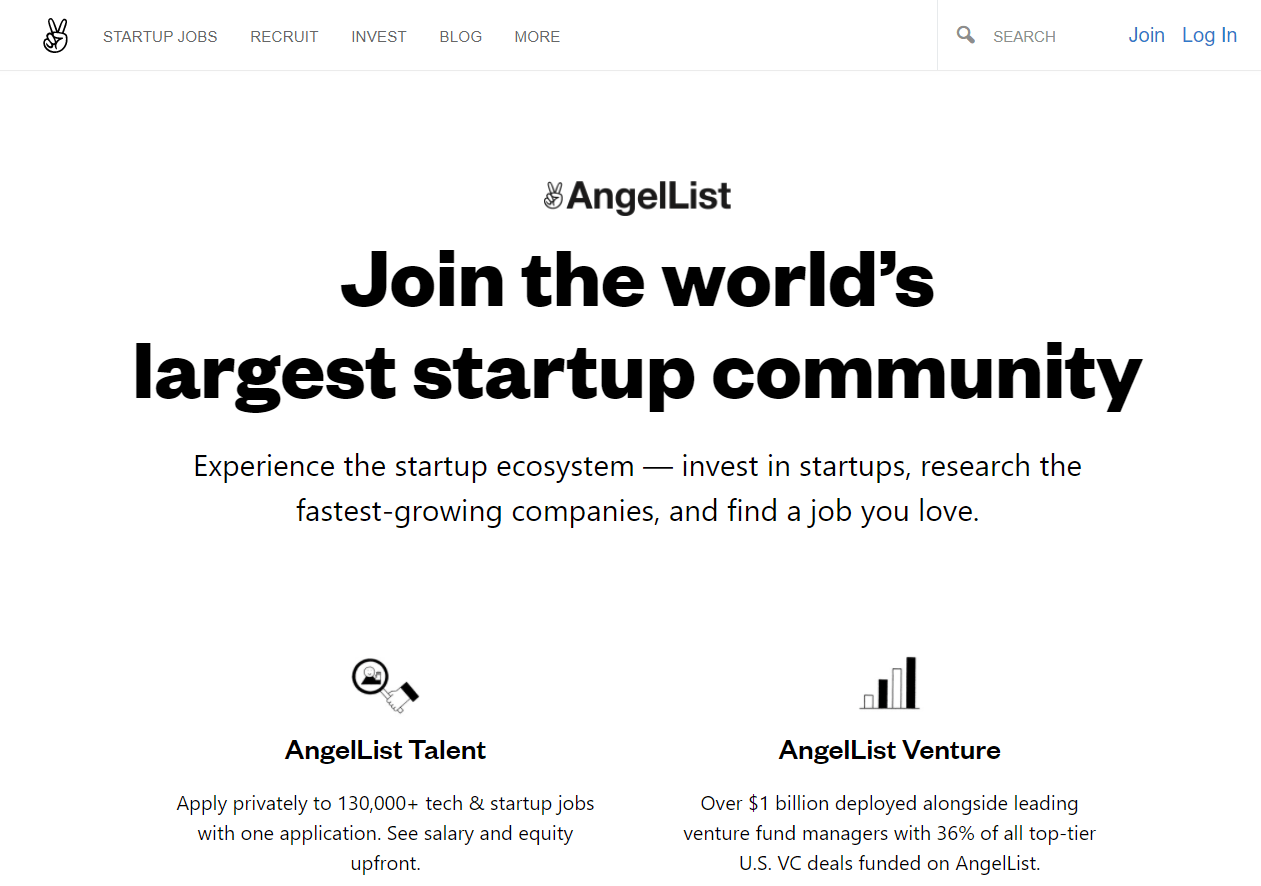 If you have a fast-growing startup in Tech or SaaS space, then you might need the help of AngelList.
Having been on the market for a little over a decade, AngelList has proven to be a top entrepreneurship site for a few reasons.
One of the reasons is that it's mainly focused on startups. This really resonates with entrepreneurs who are looking for fresh minds to catapult their new business ideas for the skies.
That said, here are some features that you'll find interesting.
Features
To get started with AngelList as an entrepreneur, the first feature you'll notice is the source. It helps you find the perfect candidate for the post you're hiring for.
An expected feature is the job listing. After creating an account, you can write your job description and promote it to 8 million qualified startup enthusiasts ready for new adventures.
To get an idea of how your hiring process is fairing, you'll use the tracking feature, which does the obvious. The feature lets you collaborate easily with your team through a centralized and agile candidate management system.
Pricing
AngelList has three pricing options, as shown on the screenshot.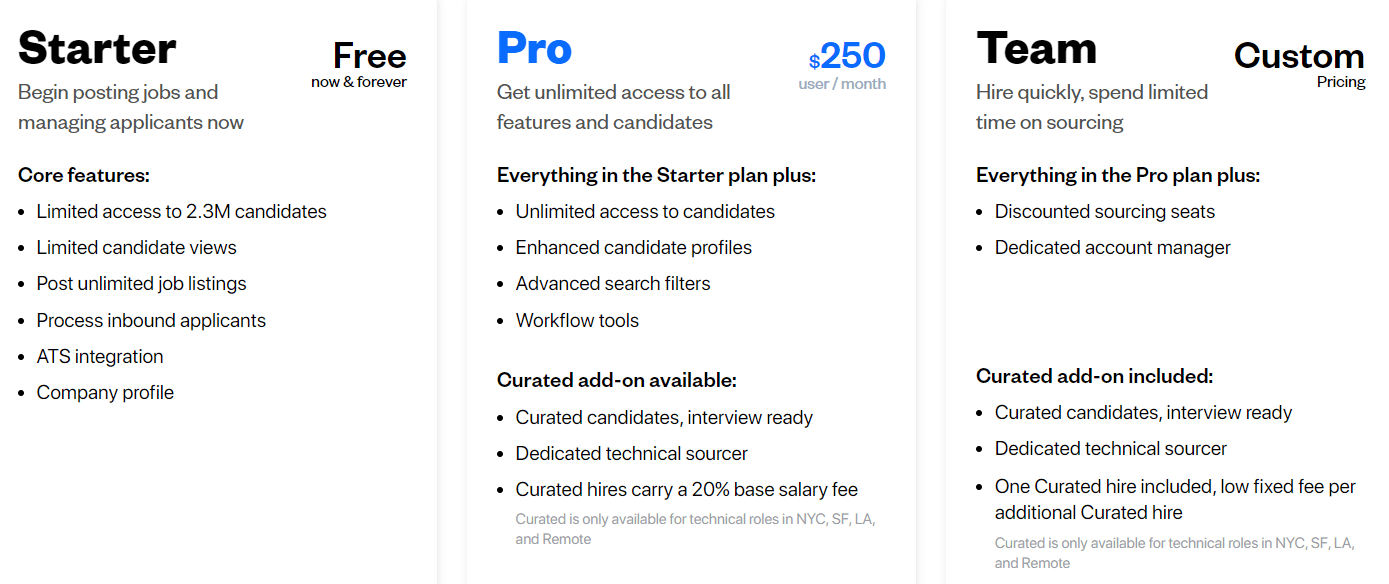 Top Email marketing tool – Mailchimp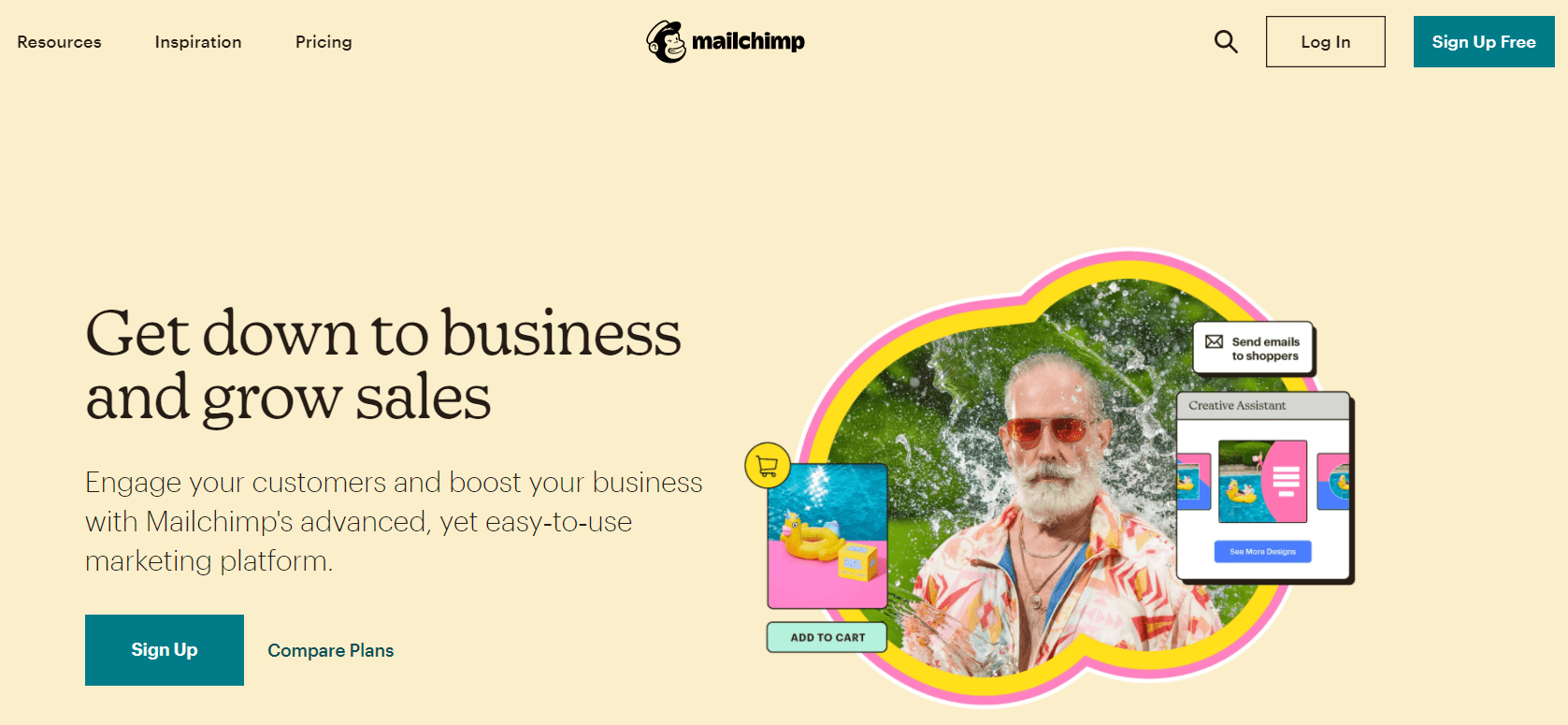 Email marketing is at the core of marketing. 87% of marketers use email marketing to distribute their content.
That's why you need a tool that can strengthen your messaging while still helping you sell your product.
Mailchimp is a robust option to add to your marketing arsenal. Over the last two years, the company has grown progressively to now serving millions of users and even being ranked 9th in the Forbes cloud 100.
There are so many reasons contributing to the success, but one of them definitely has to be the powerful features Mailchimp comes with.
Features
Mailchimp's form builder is one of its kind. You'll love the intuitive interface which isn't sophisticated even for new entrepreneurs. Creating forms and embedding web forms on your site is pretty easy. A short tutorial is good to get you started.
Once you've created your form, your next task will be creating campaigns. Mailchimp gives you four campaign options, namely: regular, automated, plain text, and A/B testing. All have different delivery models. Choose the one that best suits you.
The built-in landing page builder lets you create pages to promote your product and build an email list. This cuts the cost of having to purchase a different landing page tool like Unbounce.
It comes with a bunch of email templates at your disposal. You just need to pick the type you love and customize it. You can also design your own templates from scratch.
Pricing
Mailchimp offers a tiered pricing system that starts at $0 to $299.

The plans' price increase based on the number of contacts in your email list and the type of features you want.
Top Payment Tool – Paypal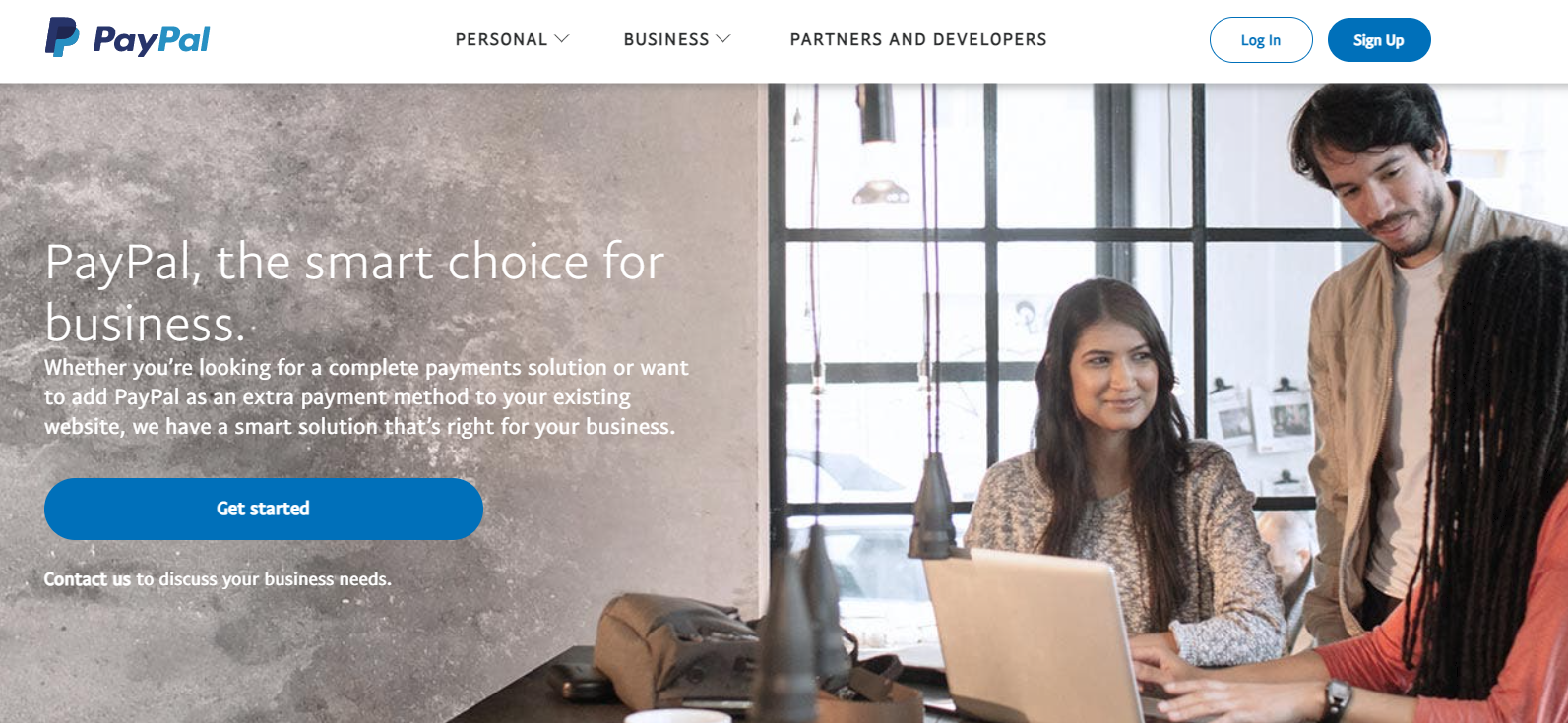 You can't talk about entrepreneurship without talking about money.
You need to pay your employees and other business expenditures. Besides, you need a platform that helps you receive payments from customers.
Without a doubt, Paypal is the most reliable, convenient, and simple online payment tool available today. You can use it to send and receive money domestically and internationally.
Features
Like most online payment platforms, Paypal has a mobile app that you can download from Google play. It lets you do any type of transaction right from the comfort of your mobile phone.
You can integrate PayPal with different payment options. These include bank accounts, debit cards, and credit cards. Use these options to fund your PayPal balance to continue with your transactions.
As hinted earlier, Paypal supports international money transfers using multiple currencies. In short, you can send money in dollars, and the recipient receives it in Euros at the current exchange rates.
Pricing
Paypal doesn't have a fixed pricing model on its services.
For example, you don't incur any cost when sending money to friends and families via PayPal balance, bank account, or debit card.
But there are charges when you send or receive money for goods and services, which is 2.99% of the money you've transacted.
Bonus –
Fyle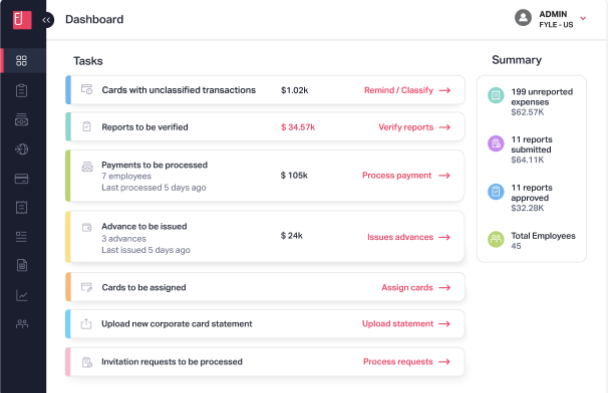 In the end, it all comes down to how well you manage your bottom line. In order for Finance teams and business owners to achieve financial productivity and success, it is important for them to have real-time visibility and control of organiztion-wide spending.
Fyle is an expense management software that enables businesses to streamline and automate their pre-accounting process from start to finish.
Its intuitive and easy-to-use software helps eliminate the need for manual intervention right from report submissions to approvals and payment processing.
Features:
Employees can track receipts from every day apps like Slack, G-Suite, Outlook, and SMS

A robust business rules engine checks every receipt and expense for errors, helps your employees fix them, and records all actions in a detailed digital-audit trail. 

Fyle can faciliaites direct feeds from your credit card provider so corporate card reconciliation is fully automated.

Reimbursements are quick with Fyle's ACH and employees see payment status in real-time. 

Integrates seamlessly with major accounting software like NetSuite, QuickBooks, Sage Intacct, and Xero helping accountants close book faster.
Business reduce their reimbursement TAT, gain real-time visibility into all spending, and eliminate the need for manual work from the entire accounting process with Fyle. 
Price:
Starts at $4.99 per active user on the basic plan.
Top Website Builder – WordPress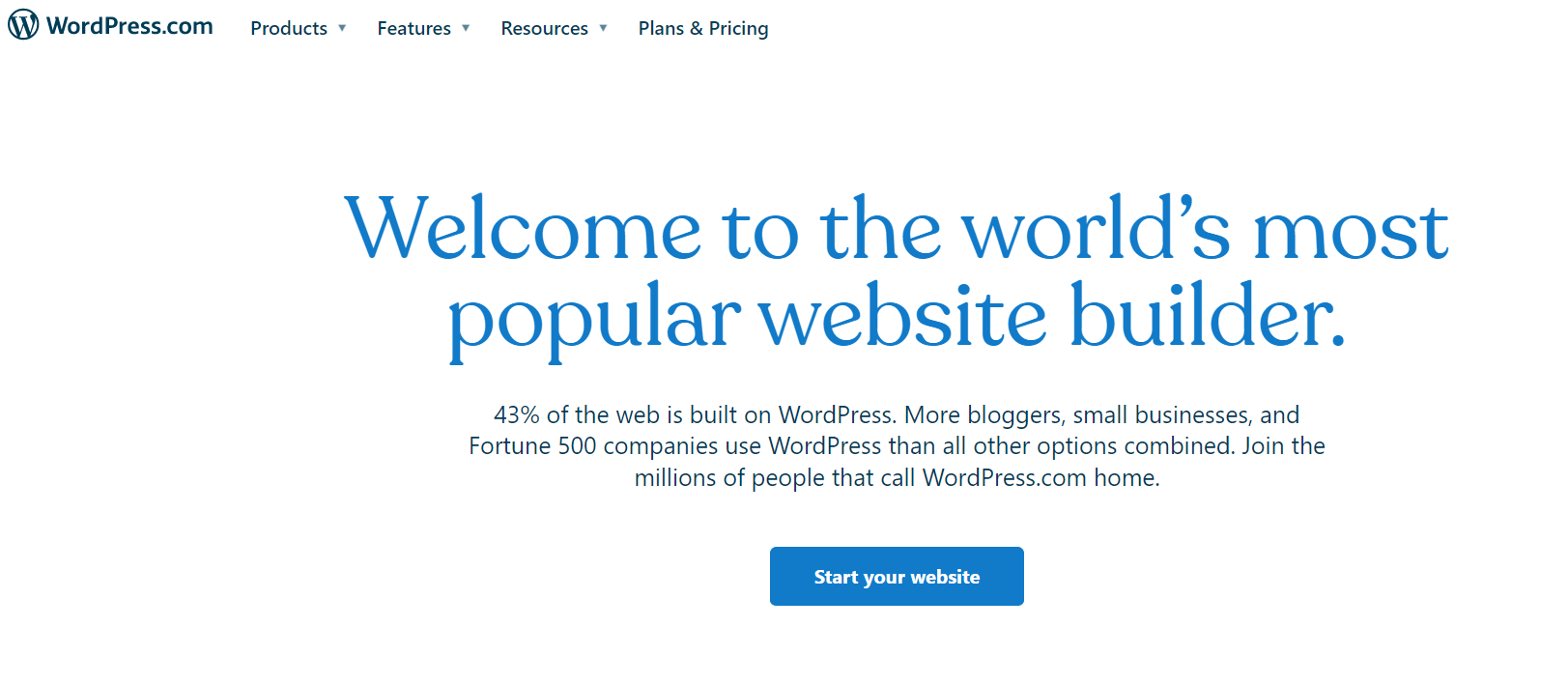 Your online presence matters if you want to successfully wade the murky waters of entrepreneurship.
With a simple tool like WordPress, you can easily set up a website that showcases your product and services to the world.
The next step is creating compelling content that attracts readers who can later turn out to be potential customers.
Features
For the do-it-myself type of entrepreneurs, WordPress gives you thousands of themes that you can customize to build your own website. This cuts the cost of hiring a website designer who would have invoiced you a couple of hundreds of dollars.
You get thousands of different plugins that add more power to WordPress. To make use of this feature, figure what you want first. Then, search for the right plugin and add it to WordPress without altering the host program.
WordPress lets you integrate with hundreds of Google apps. For example, you can add a customized Gmail address, add Google docs, meet, and Google Drive with the click of a button.
Price
WordPress comes in four pricing options as shown in the screenshot.

You can get started at $4 per month all the way to $45/month which is billed yearly. You get more features as you climb up the ladder.
Top Freelancing Tool – Upwork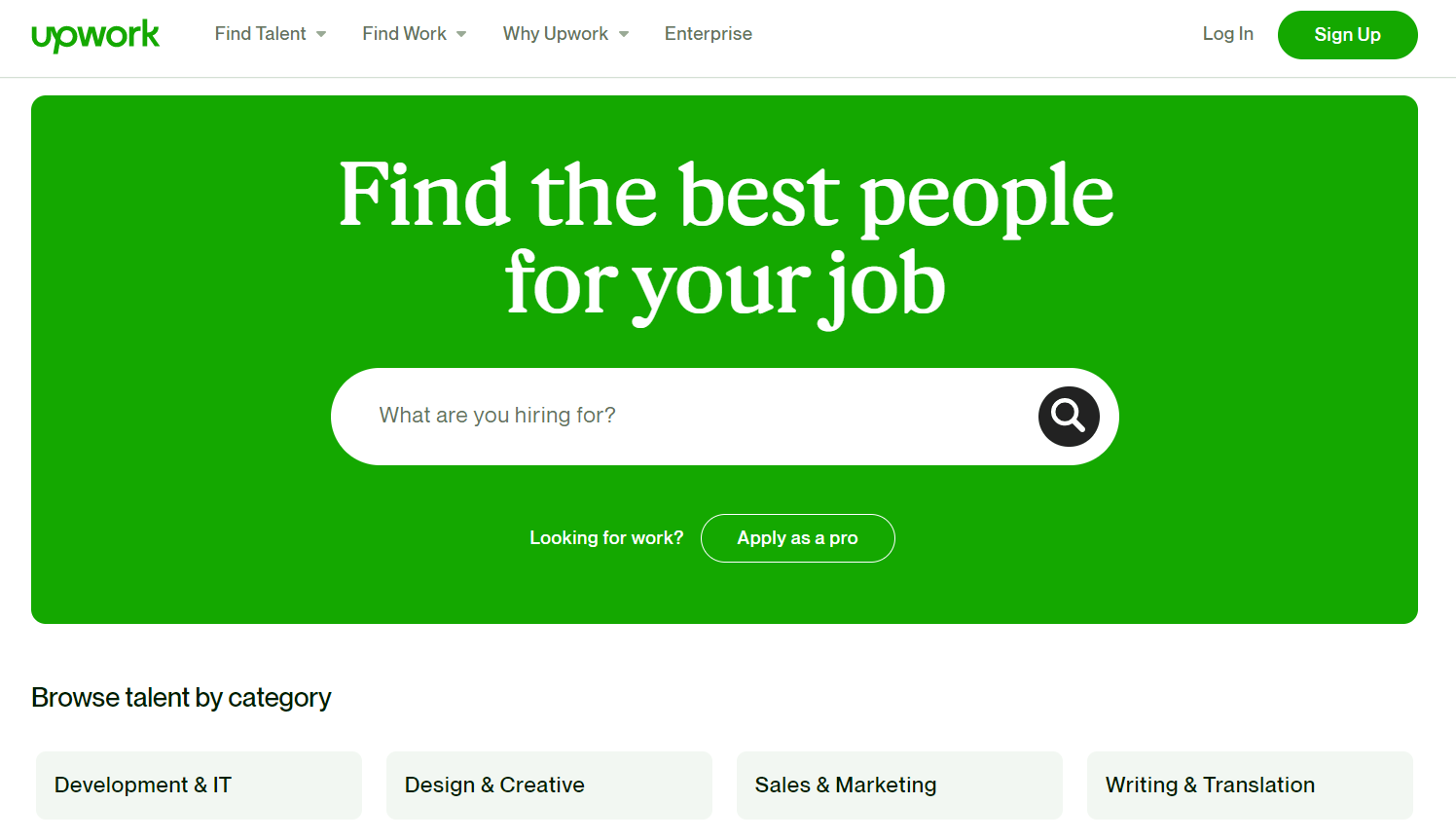 At one point you'll need to outsource some of your tasks to freelancers or remote workers.
For example, you might need a content writer to fill your website with blog posts or a social media marketer to help market your product.
In this case, you'll need a platform that hosts all these professionals from across the globe. In short, you need Upwork.
It's currently the world's largest freelance talent workplace boasting twelve million freelancers and 3 million clients.
Features
Using the "find talent" icon, you can post a job, search or buy projects, or let it find the right talent for you. The kind of talent you get includes professionals in sales, IT, Accounting, writing, and marketing.
You can also become a member of Upwork if you want to become a freelancer to make some side income. You simply need to open an account, complete your profile, and submit it for approval.
Pricing
Creating an account in Upwork is free. Working or hiring a freelance is also free. Upwork's charges are in the form of fees which are 3% on all the payments you make.
Top Time Tracking Tool -WebWork Time Tracker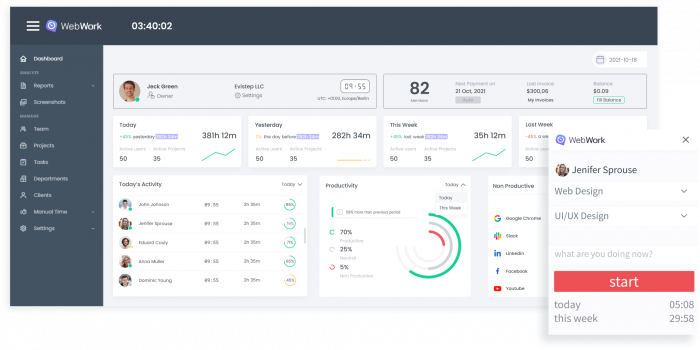 WebWork Time Tracker helps companies visualize the time they spend on projects. Thus they are always aware of where every minute goes and can eliminate time wasters more easily.
What happens as a result? The company values every single minute and makes sure it's spent for the benefit of the business.
WebWork offers both teams and freelancers a complete workspace where they can plan, organize and complete tasks all while tracking time.
Features
WebWork's Task Management System enables teams to manage projects from start to finish right inside the app without needing a second tool. This way teams will not spend additional time to get on another platform to check the tasks, but will see them right inside their tracker.
Attendance Monitoring allows to automatically record the start and end times of work. If the user/employee is late or leaves early from the set schedule, they get a popup to fill in the reason.
Optional Screenshot Modes are a great assistance to managers if they need to be up to date with the execution of a project. There are 4 Screenshot Modes and they are Screenshot, Blurred, Background and No Screenshot. These can be used depending on the project's importance and the employee's privacy.
One more feature that can be of great help to increase productivity is App and Website Usage. This feature records time spent on apps and websites. First, the employer marks apps and websites as productive, non-productive and neutral and then the tracker records how much time is spent on each. If the tracker detects a little more time on non-productive platforms, it opens a popup reminding about it.
Pricing
WebWork offers 3 pricing options.
The Basic Plan is the best option as it includes all the features without limitations for a great price in the market. But the Free Plan is also a great choice if you need to give it a try first.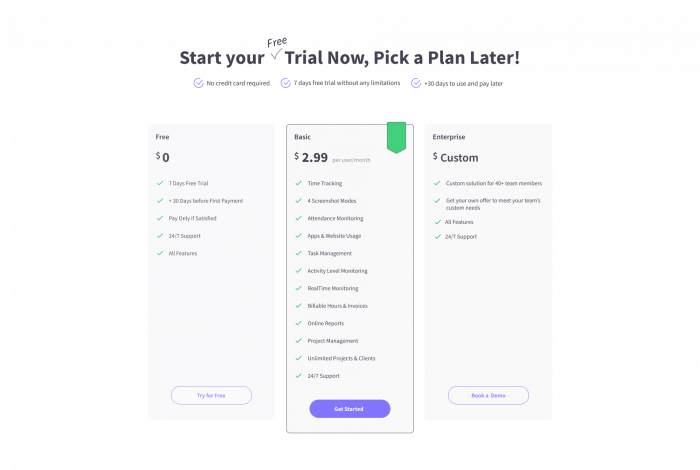 Top Data Protection Tool: NAKIVO Backup & Replication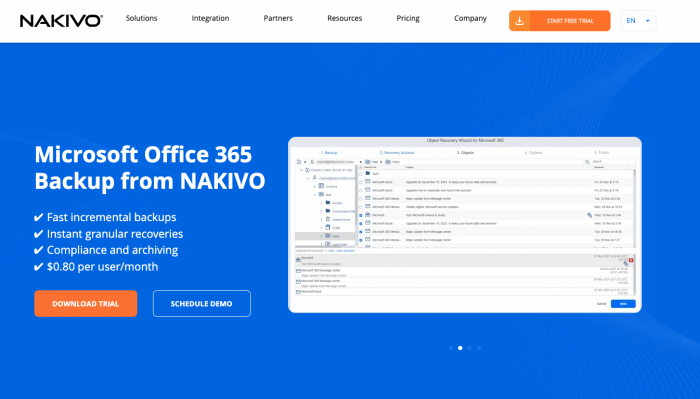 The risk of cyberattacks and data loss incidents threaten organizations of all sizes and in any industry. Luckily, NAKIVO offers a comprehensive data protection software that allows you to back up and recover your data on demand.
NAKIVO Backup & Replication is a fast, affordable, and top-rated tool with a user-friendly web interface. You can use the Microsoft 365 backup solution to protect your SaaS environment since NAKIVO provides multi-platform support which also includes virtual, physical, and cloud environments.
Features
The

advanced storage tiering

allows you to store backups and backup copies onsite, offsite, in the cloud, or offline to eliminate a single point of failure and ensure data recoverability in case of a disaster.

Store

ransomware-proof backups

by enabling immutability in the cloud or in Linux-based repositories. You can also store air-gapped backups in a detached USB drive, NAS, or tape.

The NAKIVO solution provides

site recovery orchestration

capabilities that can automate emergency failover and failback to minimize downtime and meet recovery objectives.

You can manage users and ensure the safety of your environment using

integrated access controls and security tools

.
Price
You can download the NAKIVO Backup & Replication free trial to get a full-featured version of the product for 15 days or download the free edition to protect a limited number of workloads for an entire year.
NAKIVO offers two cost-effective licensing models and three plans that suit all business requirements and budgets. The subscription licenses start at $1.95 per workload/month while the perpetual license starts at $229 per socket. Both options include technical support.
You can also book a free deployment session with a NAKIVO expert who can help you set up the solution and perform your first backup job.