Recruiting the right fit for a company is an important job.
Companies are rightfully picky about who they recruit. It's not just about having the right skill set, it is about an overall fit in terms of attitude and culture.
There might be hundreds of applicants for a position, but ONLY ONE who fits the bill perfectly.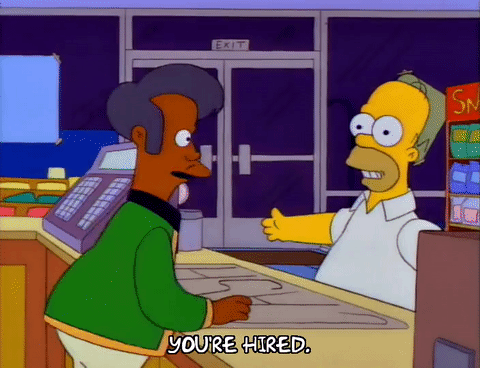 Companies spend an average of 22.9 days hiring the right candidate, up from a 2010 average of 12.6 days, as reported by Glassdoor. So how to find that right applicant? Fortunately, recruiters are testing tons of new and innovative methods to find THAT ONE ideal hire, including video-based, blind hiring and social media-driven recruitment. Some recruiters have even started using hiring software and improving their website design to help grow their business.
One of the most commonly used and effective approaches for finding appropriate candidates for remote jobs are recruitment emails. They are business appropriate, well-accepted, and do not fall under the label of spam.
Like all business writing, creating an effective recruitment email requires skill and style. In this latest post, we want to help you take the next step in writing emails like a pro-recruiter that uses recruiting automation. Follow these five tips to get your dream employee !
#1 Avoid Cringe-Worthy Mistakes
In our last post, we discussed the mistakes that recruiters make while doing a cold outreach, such as not spending enough on subject line, using the same message that everyone's writing amongst others.
And there's more.
Too many recruiters make cringe-worthy mistakes that bring their own job qualifications into question and reflect poorly on the companies they represent.
Today's generic Amazon recruiter template cold email features some janky-riffic HTML copy you might not expect from a billion-dollar company pic.twitter.com/pWnf2gFdau

— Thomas Hauk (@shaggyfrog) September 1, 2017
A few tips to help you avoid making silly mistakes in recruitment emails:
Use good cold email recruiting templates – but don't overly rely on them. Personalization warms up the prospective hire and makes them see you and your company in a more favorable light.

Double check the name and gender of the candidate. It's the most basic information, and there's nothing more embarrassing than using the wrong salutation or name in an email.!

Don't send the same email twice.

Don't go jargony in your email, and do not brag.

Finally, proofread every email. Make sure to ask the candidate 'could you please send over your resume'. 
#2 Research Your Candidate Before Hitting the Send Button
Gone are the days of traditional recruitment and sending cold emails to random prospects in the hope of generating interest in your email or the company. Today, recruiters must go that extra mile to attract a prospective employee. Competition for hiring is intense, and researching the candidate has become essential.
An email like this won't cut it anymore.
Just received a recruiter email with this enticing and professional subject… pic.twitter.com/vFAB31Sepn

— Tim Lynch (@Clampants) August 23, 2017
Instead, think about one like this: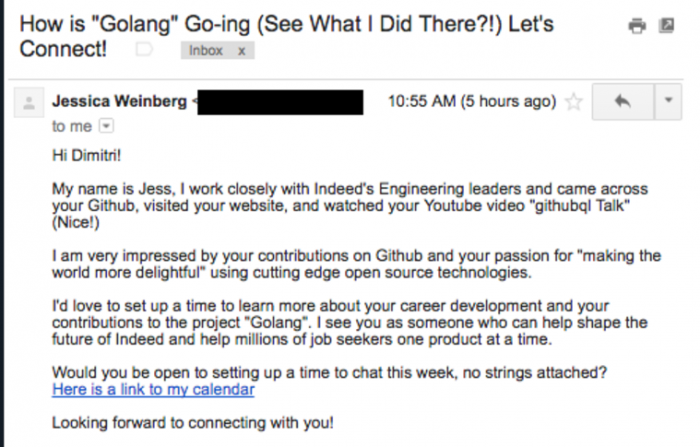 See the difference?
If your first cold email to a prospective employee is friendly and makes them feel that you know them already, it elevates the chances of getting a response.
How do you achieve that?
Before sending them an email, look through their LinkedIn and Twitter profiles and try and find out more about them. Here's an interesting snapshot of a LinkedIn profile that can kickstart an amazing conversation.  

Candidate research will not only help you personalize your cold emails, but will also separate you from other headhunters. You'll be surprised the number of times recruiters send emails without proper research on their part, which can land them in embarrassing situations, like the one below.
18 years experience. Get email from recruiter for temp entry level job. YOU HAD ONE JOB. pic.twitter.com/gyZs6f8lnW

— Jenna Bilotta (@jenna) September 4, 2017
Good social media research can also help gauge whether the candidate is a good cultural fit for your company, whether he/she possesses the required communication skills, and also to determine their overall persona.
#3 Show Them Your Softer Side Quickly
Headhunters and recruiters are fast breaking the stereotypical mold and beginning to emerge as friends and confidants. They are the ones that a candidate approaches for negotiations, seeking feedback, and putting across their views, amongst other things. That's why it is essential that your cold email isn't the generic templated version that sounds too formal and preachy.
The faster a recruiter shows their softer side, the more effective they are. The idea is to keep the conversation professional yet approachable. Here's a great example from the team at Stripe, and while it is a template, it makes a good start. Check that the email is sent via an existing employee rather than by the HR team and invite the prospective employee to hang out casually over a cup of coffee! That's a winning strategy.

#4 Add Personality to Your Cold Email
88 emails per day. That's the average that an individual gets each day, according to research. Your cold hiring email needs a personality to stand out. Here's a good example.

The email sets itself apart from random cold recruitment emails in several key ways.
Starting with an apology conveys that the recruiter respects the candidate's privacy.

The email hints at the common connection.

The email highlights the job expectation in a fun, casual way, with the focus on the candidate.
#5 Prepare Your Prospect
Your job as a recruiter does not end after sending the first cold email. Good recruiters go the extra mile and keep their candidates prepared and informed at all times.
Send your prospective candidate a follow-up email preparing them for the type of questions they should expect in the interview and suggesting reading or other background resources that can help them impress the interviewer. You'll help your candidate while giving yourself a great reputation as a supportive, effective and empowering recruiter.
Bouncing back from a period with a lot of lay offs can be a busy and stressful time for recruiters. However, recruiting doesn't have to be tough, if you use the tips laid out above. Learning the lessons we've shown you can make a real difference to your recruitment process!
Are there tips that you wish to share with us? Or any HR tools recruiters should be using? 
ADD_THIS_TEXT