ADD_THIS_TEXT
Data gathered by TextRequest suggests that roughly 74-75 trillion emails were sent worldwide in 2016, with the average email user receiving 88 messages per day (but sending out just 34).
Those aren't good odds for salespeople. Not only are prospects receiving more messages than ever, they're being extremely selective about how and when they respond.
If you want your message to fall into the "opened and responded to" category, it needs to stand out – and not in a bad way.
As you hone your cold emailing skills, it's as important to learn from failed messages as it is to review winning campaigns. Take a look at the following examples and ask yourself, "Am I making the same mistakes as these five worst sales pitches ever?"
If you have any doubts, apply the lessons learned from each example to increase your cold email response rates.
Pitch #1 – Dana Severson Gets a Pitch that Misses the Point
Dana Severson, according to his LinkedIn piece, is the founder of a gourmet beef jerky subscription box service.
As such, he's regularly approached by bloggers and would-be reviewers who are eager to claim a free sample in exchange for mentions and links on their sites.
Though Severson initially thought these exchanges would be useful promotions for his fledgling company, he quickly found that little came from them. He started to become more selective about the sites he partnered with – a policy he appreciated more after receiving the request below from a blogger he calls "Tommy."
Severson offers a line-by-line breakdown of where Tommy went wrong, but his mistakes are obvious:
He doesn't have a promising value proposition. Few business owners would consider representation in front of 600 monthly views worth an exchange of free product.

He botches his offer. Letting Severson link to Tommy's site confers no benefit to Severson, creating no incentive for Severson to take Tommy up on his offer.

He insults Severson. This should be a no-brainer, but including something like "Everyone I asked said that your box was horrible" in a sales pitch is never appropriate.
LESSONS LEARNED:
Always phrase the benefits of your offer from your prospect's point of view. If it isn't clear immediately from your cold email why a lead should follow up with you, they simply aren't going to take action.

Don't brag. Even if, unlike Tommy, you have accomplishments worth bragging about, your cold email isn't the place to do it. Summarize the high points as needed, but coach them clearly in the value you have to offer.

Don't insult your recipients, even if you do so using a back-handed compliment.
Pitch #2 – JD Miller Gets Ignored
In another LinkedIn piece, JD Miller, Managing Director at BravoSolution, shares the lengthy back-and-forth email conversation he shared with a salesperson (whose name and company he chose to keep confidential).
The initial exchange was ineffective, though innocuous:
Not only did Miller note the omission of a question mark at the end of the final sentence, he stated that the product being pitched to him was irrelevant.
After ignoring the message, he received a follow-up email:
Again, Miller noted weaknesses. This time, he chose to respond:
"I sent back a note saying that I don't recognize these companies as peers, I don't use Salesforce, and don't need this kind of service layered on my current CRM system either."

Check out this article on the best CRM for small business.
Undeterred, the sales rep sent a final message back: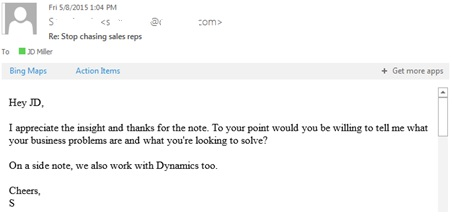 Understandably, Miller was frustrated by the rep's requests:
"Although there's plenty of information about me and my company on LinkedIn, our website, Glassdoor, and news articles, he was still looking for me to invest the time in teaching him about my business – teaching him how to sell to me – so that he could make another pitch for a product I've already decided I don't think I need."
LESSONS LEARNED:
Do your research. There's no other excuse for the sales rep's lack of understanding about Miller's company besides laziness. With proper research, this exchange never would have taken place.

Personalize your cold email to your recipients' needs. Both the emails received by Severson and Miller demonstrate the unwillingness of senders to personalize their cold emails to the needs of their recipients. With so many tools

making personalization easy

these days, generic emails are simply inexcusable.

Respect the feedback your recipients give you. Don't ask prospects to hold your hand and do your work for you. Every piece of information they give you should lead you to further discovery on your own.
Pitch #3 – Mark Cuban Chews Out a Shark Tank Pitch
This example doesn't come from cold email, but the lessons learned are just as valuable.
Well-known entrepreneur Mark Cuban describes the pitch he heard from a company called "RoloDoc" on Shark Tank as one of the worst sales pitches he's ever heard.
The company – which aimed to create a social networking site for medical professionals – was founded by two doctors who clearly hadn't done their homework before appearing on the popular reality show.
When Cuban and the other sharks started diving into their business plans, it became clear that the founders had hoped to skate by on their medical credentials.
According to Cuban, in an interview with CNBC:
"I typically don't like to be mean to entrepreneurs… but these were two doctors who I think thought they could just snow us and mislead us into thinking that because they're doctors they're smarter than all of us."
Unsurprisingly, the two were unsuccessful at landing an investment from the Sharks, though they appeared to have a good attitude about the failure.
Business Insider's Richard Feloni shares of founder Albert Amini:
"After the premiere of the episode in September 2013, Albert tweeted: 'Did my application for business school just write itself? #noregrets #ontv #moreschooling #stillasurgeon.'"
LESSONS LEARNED:
Avoid jargon in your cold email. Prospects won't be blown over by your in-depth understanding of your field. They'll either be confused or irritated – and neither one of those feelings will get you a response.

Convey your USP and benefits in clear, concise language. If you can't clearly state in your cold email what you have to offer and why prospects should work with you, you shouldn't be sending messages in the first place.
Pitch #4 – Tim Berry Calls Out a Contradiction
In an article for the BPlans website, Tim Berry calls out the pitch at the other end of a comment link spam message as "the worst business pitch I've seen in years."
Clicking the link left on Berry's website directed readers to the following page: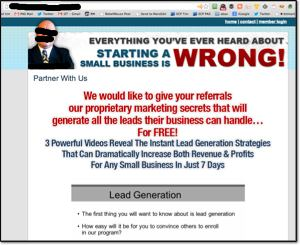 Berry is quick to point out a number of weaknesses:
The big promises made by the site's sales copy seem out of touch in an era that's all about authenticity and transparency.

The look of the site calls to mind 1980s direct mail pitches – and not in a flattering way.

Errors on the page immediately negate its perceived authority.
The biggest issue Berry emphasizes – and one that all cold emailers would be wise to pay attention to – is that the author's claimed expertise is immediately disproven by his total lack of a digital footprint.
According to Berry:
"If you don't have a reasonably good web footprint, don't try to sell online marketing expertise. You really have to show up well in standard searches, like Google, Yahoo, and Bing; and in Twitter, Facebook, LinkedIn, and Google+. It's a brave new world, now, in that respect. You can't fake an online past."
LESSONS LEARNED:
Understand the elements that convey credibility. Don't claim expertise you don't have. It's too easy to Google someone's background these days to risk your reputation on falsehoods.

Don't talk about what you can do – show that you can do it. Prove your worth by showing how you've added value to past customers. Your customers will translate the benefits for themselves, without you having to brag.
Pitch #5 – Stephen Walter Shares How NOT to Pitch a VC
Again, this example isn't one that comes directly from cold emailing. And, to be fair, it isn't a single example at all, but a list of several mistakes venture capitalist Stephen Walter sees commonly when hearing VC pitches.
Walter's first mistake echoes the examples given by Miller and Cuban: having a lack of knowledge.
"When you are pitching a product and a market it's expected that you have a depth of knowledge about both. Some of the most uncomfortable moments I've sat through are where an investor knows more about a product or market than the entrepreneur." 
Another challenge that's common to both entrepreneurs and those sending cold email: failing to lead in appropriately.
"I see lots of entrepreneurs struggle with communicating the broad strokes of their plans. They spend so much time with their problem and solutions that their brain often occupies the fifth degree of detail on both."
Walter also suggests those pitching VCs avoid getting defensive.
"I know it's hard to listen to people who know less about what you are working on than you do, but your job is to sell them on your project and yourself. Nobody likes people who can't take a question without getting defensive. Answer their question and move on."
LESSONS LEARNED:
Be an expert on both your product and your customers. As previous examples highlight, your prospect shouldn't be the one educating you.

Focus on the problem you're solving. Don't get so bogged down in describing the intricacies of your offering that you sail past the solution it offers your cold email prospects.

Be knowledgeable, but save detailed explorations for future contacts. Your cold email serves a single purpose: getting prospects to take the next step. Just like you wouldn't propose marriage on a first date, you don't need to lock down the sale from day one. Lead in appropriately and avoid getting defensive – you'll reach the sale eventually.
Are these the five worst sales pitches ever in the history of the world? Maybe, maybe not. Regardless, they should give you plenty of insight into what not to do when sending out a cold email.
Consider their lessons carefully and apply them to your own sales campaigns. See if your results increase as a result.
Got another example of a bad sales pitch? Share the worst you've ever heard by leaving us a comment below:
ADD_THIS_TEXT