ADD_THIS_TEXT
Most successful sales or partnerships take more than a dozen "touches" before you hear a response back to seal the deal.
The problem? No one seems to be sending follow-up emails. They send one email and then never write to that prospect again.
In fact, a whopping 70 percent of sales emails don't go past the first attempt.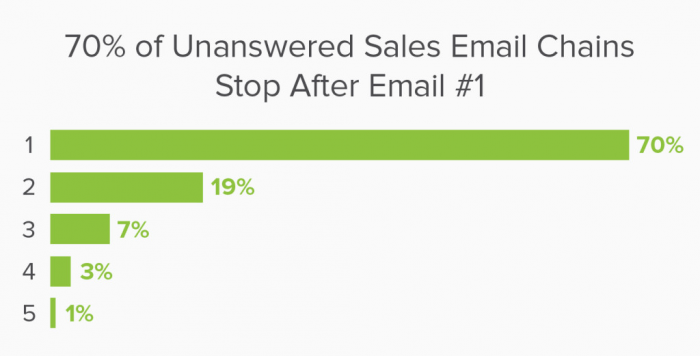 The reason you're not getting a response to initial emails is because they are a small part of a much larger picture.
And the picture can only be complete if you send enough of the right kind of follow-up emails.
Not only should everyone sending cold emails be sending out follow-up emails, but they should also know how to write one that will actually get a response.
Too many follow-up emails are downright easy to ignore. Certain phrases are commonly overused, and people quickly recognize the robotic subject lines and wording. Also worth checking out an online video maker to gain the recipients attention even more in the follow up.
You don't want to come across to prospects like you're reading off of a script. You simply won't make sales that way.
You've got to stand out from the crowd. Here's why (and how) you should do it.
Why follow-up emails matter
It seems like those who send out cold emails think that their opening email is the only thing that matters when it comes to outbound email outreach.
It's important, but not nearly as vital as the second, third, fourth, or fifth emails.
In fact, as many as 80% of deals require at least five touches before closing, so you've got to look at your email outreach as an ongoing conversation.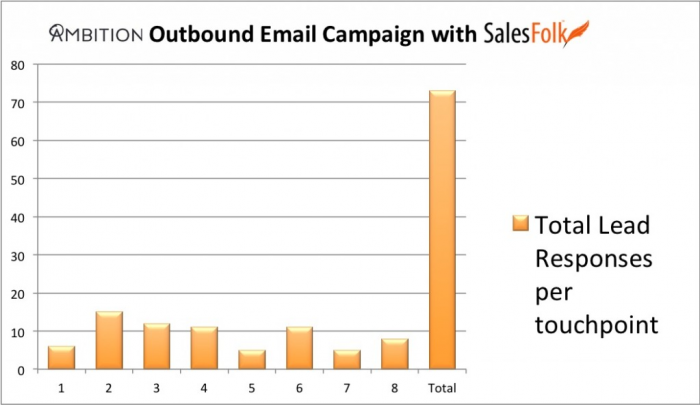 If you actually send out a follow-up after your initial message, you'll be one of the very few people sending follow-ups.
Just by sending one follow-up, you'll start to stand out from competitors. Why? Because you're doing something they aren't.
Based on Yesware's data, you've got a 21% chance of receiving a reply to your second email if you don't get a response to your first one.
And if you don't get a reply to your second email, keep sending them. There's a remaining 25% chance that you'll hear from the recipient eventually.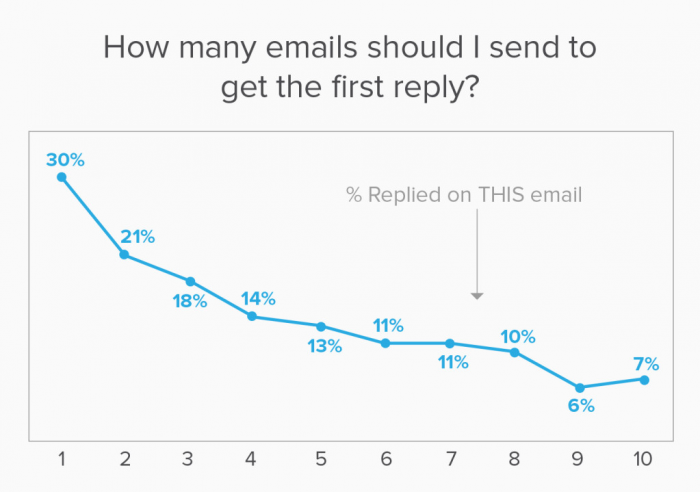 Additional emails will force your prospects to notice you. And you'll let them know that you're interested in their reaction to what you have to say.
Plus, they won't feel like you're sending mass emails out to a huge list if you word your follow-ups correctly.
Your prospects will feel like actual human beings, making them more likely to take an interest in what you've got to say (and invest in it).
There are a few things you'll want to avoid when you're sending out follow-up emails, though.
Avoid follow-up failure
If you follow up too quickly, not at all, or you don't sound sincere when you do follow up, you'll hurt your chances of getting a response.
What you want to do is follow up consistently and respectfully with the ultimate goal of building a relationship with the prospect. People will appreciate that approach.
Here's a great example from CognitiveSEO:

Notice the bottom line? It says: "While I am a sales guy, I am not a pest. Want me to go away, click here."
That's just the kind of attention to detail you should think about adding into your follow-ups after a great email body.
It's respectful, professional, and unique.
You'll want to keep this kind of customization and personalization in mind.
Follow-ups are customizable
The more customization that an email has, the more likely people will be to respond to you.
Personalized emails get far more opens (and clicks) than emails that are not personalized.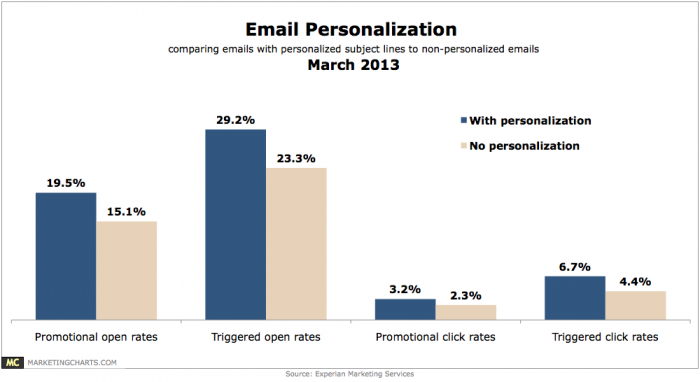 And personalization not only improves customer experience, but it also increases overall business performance.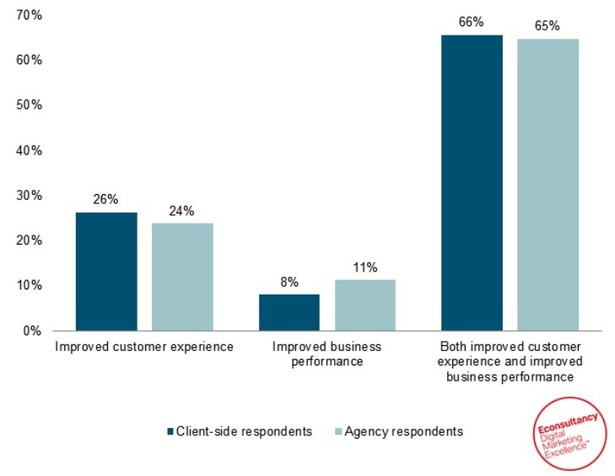 These personal touches are yet another way to make your recipients feel like you care about them as human beings
Don't be afraid to add GIFs and emojis.
You should also keep emails short. Don't be so brief that you come off as rude, but be sure to address your point as quickly as possible.
People get more emails per day than they can count. If you can communicate in fewer words than other senders, you'll stand out from the crowd.
Try keeping your email between three and five sentences in length, if you can. Then, once you finally receive a reply, send out a longer email with a more detailed body.
This example from CustomerThink is the perfect length.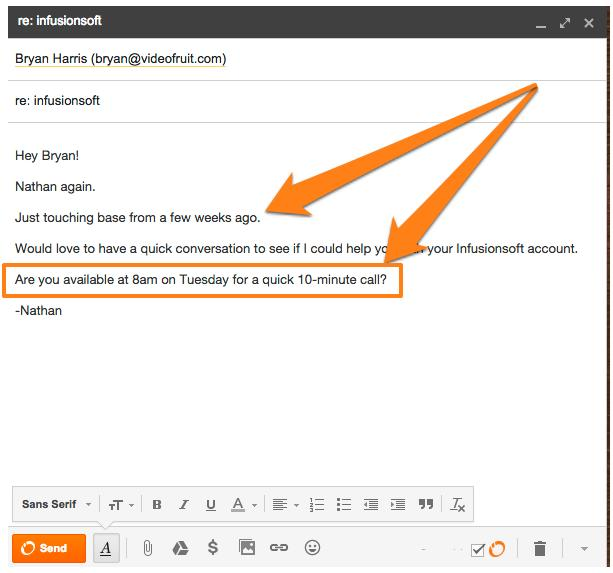 A shorter email also respects the recipient's time, which is something else to keep in mind when it comes to follow-up emails.
Respect the recipient's time
Have you ever gotten an email from someone but couldn't figure out what they were referring to?
I know I have. And it's a pain to have to search through my inbox trying to find out what the context of their writing means.
Do the hard work for people and save them from having to spend time searching through old emails. It will show them that you respect their time.
And be sure not to follow up too soon. Don't send out an email to a prospect on Friday and then send a follow-up email on Monday.
Give them a few days to get back to you, and don't include weekends. Your prospect (just like yourself) is probably juggling tons of different to-dos while also maintaining their personal life.
That's why it's best to look at email outreach as relationship building.
Research prospects to build relationships
If you've never sent follow-up emails before, it can be tempting to send more emails before taking some time to research your prospect.
Think about quality over quantity here. Do your homework on who you're reaching out to so that you can find some common ground.
LinkedIn is a great place to start.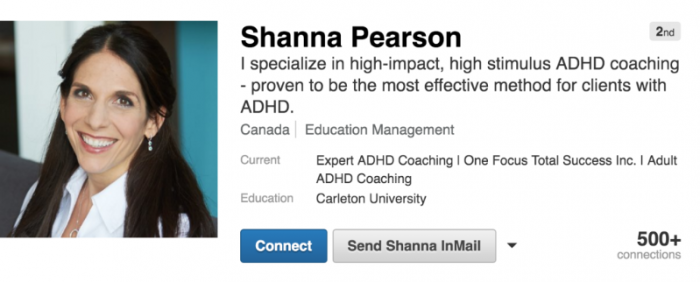 If you want to email the person above, you can easily find tons of information about her professional life.
For example, she went to Carleton University, and she lives in Canada.
You can see where she currently works and that she is in the Education Management industry.
You can find a ton of personal information with a few clicks of a button.
The more research you complete, the better. Go over to a prospect's Twitter page or personal website to gain context around things that they're working on or that they're interested in.
It works. Just look at this Search Engine Land data: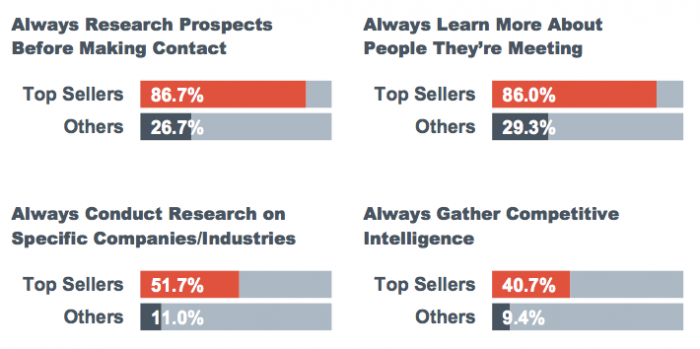 People put information on the internet for a reason: because they want to share it.
Use it as a starting point for creating a dialog with them.
Giving compliments is also a great idea if you find some sort of accomplishment they have earned or if you like something they have written or worked on.
You'll be more likely to get a response if you target their emotion.
For example, if someone you're looking to reach out to just earned an award or achievement, reference it in your email like this: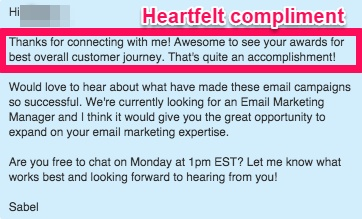 This example is a huge contrast from the typical cold sales pitches they're probably receiving daily. It's warm, personal, and kind.
Plus, it's a great hook, even if they don't realize it. They'll be compelled to keep reading after seeing a compliment about themselves.
That's why it's so important for you to keep up with your research on every prospect. You can also share your own insight by telling a story or asking a question about their work.
If you come across any new information they might be interested in, tease them with it so they'll be more likely to respond.
There's no excuse not to research who you're talking to. It's the easiest way to show that you are invested in a prospect and want to form a relationship with them.
Adding a call-to-action is helpful for attracting opens, too.
Add CTAs in follow-up subject lines
You probably don't read every email you get each day. You likely look at the subject line to determine whether something is worth opening or not.
The recipient of your emails does the same thing.
That's why you need to offer something to readers in your subject line, like this one from Sumo:
It provides something of value to readers, gets their attention, and articulates the point of the email in just a few words.
Jack Kramer and Nick Martell, the cofounders of the financial news newsletter MarketSnacks, said in a June 2016 interview with Fast Company that "you live and die by your subject line."
They say that the subject line "just checking in" is "an email subject-line recipe for 'ignore.'" So avoid that line altogether.
It also helps to use time-sensitive subject lines to add urgency, like this one I received from Grammarly:

The subject line also provides context to the reader. Even if you remember your last exchange with them, they may not.
That's why your subject should also give them a clue about who you are and what you've emailed them about before.
Then, in the body of your email, update them on prior topics of conversation and keep the dialogue flowing.
For example, you could say something like, "At the end of our meeting last month, we agreed to [blank]. Would you be up for a phone call next week to go over details and next steps?"
If you stop receiving responses though, you'll need to know when to let go.
Know when to let go
When it comes to follow-ups, you have to be persistent and send emails over and over and over again.
But you also need to decide when enough is enough – it might be time to take a step back from a prospect if you don't hear back from them after several attempts.

If someone suddenly becomes unresponsive, you're going to have to break up with them.
Literally. Sending a "goodbye" email will let them know that you will no longer be contacting them.

Be sure to include context in both the subject line and the email body that you won't be reaching out again.
Why? Because goodbye emails are psychological and they have excellent response rates.
According to the senior sales manager at HubSpot, Katharine Derum, her team's breakup emails have a 33% response rate.
When people think that they will no longer have the chance to get something, they'll instantly become eager to respond.
Try one last time to get their attention by sending one of these emails.
Scheduling out your follow-ups from initial email to goodbye email will help you see larger responses as well.
Schedule your follow-ups
A multiple email sequence schedule is your best bet for getting a response to any email, whether it's a follow-up or not.
You should send out emails on your best days and times. Find these by running a few A/B tests to determine the day and time that your emails receive the most opens, clicks, and responses.
HubSpot ran their own experiment and uncovered that Tuesday was the best day for their company to send emails, with Monday and Wednesday tying for second best.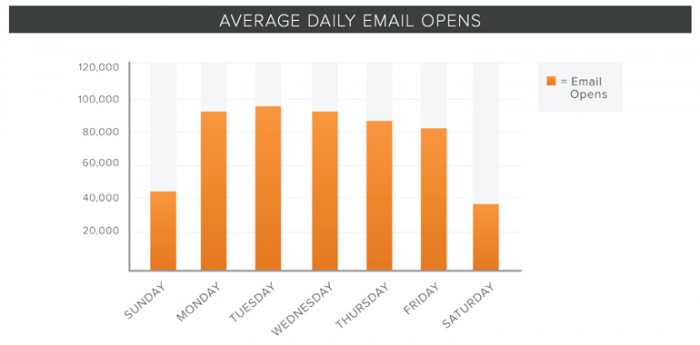 And the time of day matters, too.
Customer.io found that emails got more opens later in the day. They discovered that email opens for their tests were highest from 8 p.m. to midnight, with a second peak between 4 to 8 p.m.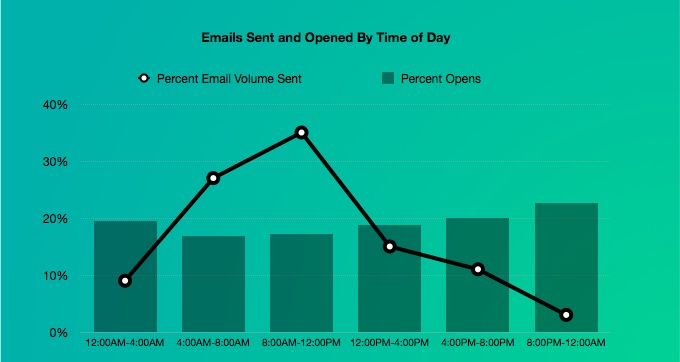 Here are some suggested time frames for follow-up emails based on HubSpot's research: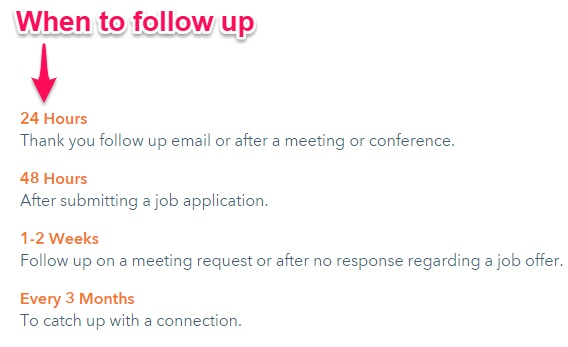 Send a thank you follow-up email 24 hours after a meeting.
Send a follow-up email 48 hours after submitting a job application.
Send an email within 1 to 2 weeks after a meeting to follow up on a meeting request.
Check in on a connection every 3 months.
It's a good idea to use a tool to automate follow-ups.
Use Mailshake to hack follow-ups
Use a tool like Mailshake to send follow-ups automatically, which will save you time.
With the Mailshake tool, you can schedule follow-ups that are triggered by link clicks.
Once a reply is received, Mailshake will stop the sequence.
You can also respond to leads within the Mailshake interface and determine what counts as a lead, like one reply, two opens, etc.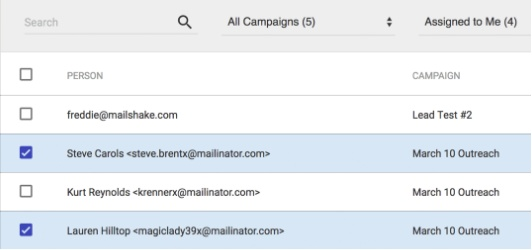 Create a sending calendar and block out weekends, set spacing rules, or set emails to only send at certain hours of the day.
Personalize messages with merge fields and preview emails before hitting send.
You can also view statistics for every message to see how it's performing.

Just scroll through your calendar to view sent emails and replies that you've received.
Conclusion
Follow-up emails are by far the most important type of email you can send because they're the most effective.
But they're also the least sent.
You'll already be one step ahead of the game if you're sending out follow-ups. But you've got to make sure you formulate them to be more likely to receive a response.
Customize and personalize your emails, and be sure to respect the recipient's time when doing so.
Keep emails between three and five lines. Research your prospects so that you'll have something to spark a conversation with.
Add CTAs to your follow-up email subject lines , too. These provide context.
Know when to let go of a recipient if they aren't responding. Send a goodbye email, which might even prompt them to get back with you.
Schedule out your follow-ups to be sent on the best days and times. And use a tool like Mailshake to manage and automate them.
The best outreach emails are the ones sent consistently on the second, third, and fourth attempts.
Try out these follow-up tips today for better interaction with your leads and greater sales volume
ADD_THIS_TEXT