Are you ready to start growing your personal account on Instagram?
With over 1.074 billion users worldwide in 2021, Instagram has now transformed into a powerful tool for blogging, business, and audience engagement.
More and more people start developing their pages and posting more content for carving their own niche in this social media platform.
But how can you successfully utilize Instagram to grow your business?
The answer lies on the surface: get an Instagram calendar for your content!
How to Create a Content Calendar for Instagram
Today we will cover the basic tricks you certainly need to effectively schedule your Instagram content.
Also, you will discover the most comfortable and personalized tools for Instagram and find out how to create a well-planned content strategy for your account using the Instagram calendar.
Find out how you can automate content posting in only a few minutes and save up tons of time for the other activities of yours!
So, today we will introduce the following:
Reasons to Use an Instagram Content Calendar
Instagram social media planner allows you to prepare different pieces of content in advance. In other words, this allows you to turn the separate pieces of your blog into a catching and interesting account where both the visual and content look really awesome.
To do this, most people used to spend a lot of their daily time picking up the right images and combining them with some useful and/or interesting insights for better audience engagement. For example, you want to post the content four times a week. So, you need to always find time before or on the day of the post going live to get the idea for your post, thinking over its compounding to the previous posts, the right photo, and others.
In fact, it will be more time-effective to dedicate one day in a certain period of time (weekends, once a week or few weeks, etc) to plan everything in advance.
Besides, with employing the content calendar for Instagram, you will not only save up tons of your time but also get some other profits, including:
setting up the date and time of every post that is going to live soon;
picking up the right photo, that perfectly fits your account (by color, topic, etc);
creating the content in batch;
reducing the efforts needed for creating the post.
As you can see, the Instagram content calendar gives you more flexibility about post planning and helps you to optimize the entire process of account management.
Creating the Content Calendar for Instagram: Main Things to Know
Before you start creating your own Instagram calendar or use the feature-rich applications for this purpose, it's important to know the basic information about the calendar structure and how to post the content right.
What to Track in Calendar?
According to HubSpot, the main information that needs to be tracked for Instagram can be presented in the following categories:
Day: One of the key aspects of the Instagram calendar is to decide the main days you're doing to share new info in your blog. For example, Tuesday, Friday, and Saturday.
Date: To plan the content ahead, it's better to prepare the posts for at least 2 or 3 weeks. It'll help to make sure that you will have enough content for a certain period of time.
Time: Most people usually neglect the posting time, but in fact, that is extremely important for getting more people to see your content. While the morning is the best time for Facebook and Twitter posts, Instagram posts get more exposure during lunch and dinner time.
Content: The main purpose of the content calendar is to help you distribute the content in a correct way and give you enough time to prepare it. You can significantly reduce the risk of major mistakes and make fewer typos if you don't hurry during the creation process.
Campaign: If you're targeting various audiences with different campaigns, then it's better to track it via the calendar. This way, you can make a well-informed decision about the campaign's progress and results.
Photo: The main component of attracting a new audience is to make a catching photo for your post. In fact, it can either introduce the content or get more people interested to discover what lies beyond the scenes.
All these categories define the success of your social media campaign on Instagram. By tracking it with the Instagram calendar, you can make sure that none of that is missed.
When to Schedule the Post?
1-2 posts per day are the average activity of the major brands on Instagram, according to Buffer.
Being too active on the account you can easily bother other people, which means they will leave quickly after the following.
How to Write?
The average number of characters for Instagram posts is 241. That is just enough to provide a certain value to your users and not too long to make people give up on reading it.
To make the text more adapted for reading, include some emojis to it. But again, place them more evenly and sustainably to keep the audience engaged.
The hashtags are also still in use, but it's critical not to overuse them in your content. The recent research shows the most appropriate number of hashtags is from 5 to 11.
What Are the Benefits of the Content Calendar for Instagram?
The content calendar is much more than just a simple planner for your social media, so let's find out the main benefits it can easily bring to you right now!
Creating a Powerful Social Media Strategy
First of all, blogging on any of the social media platforms implies creating a strong development strategy. In other words, you should have the exact idea of your blog and why people can get interested in it.
For example, think over the overall idea of your brand and its main theme, consider the kind of content you're going to post, and how to introduce it with the photos. Additionally, you have to also keep in mind the time you're going to post to get more audience engaged, and how much content should be published per week.
All these simple but really important criteria can significantly improve the entire workflow, boost the quality of content, and help you to make the most of your Instagram strategy!
Increasing Audience Engagement
What is more, the Instagram calendar has the potential to greatly enlarge your audience and improve the interaction with it!
For example, you've decided to publish the content on Mondays, Fridays at 6 am and one at 9 am on Sunday. So, by regularly publishing your posts on these days your audience will know the exact time they can go to your account and check the latest updates!
Besides, every social media has its own best time frames to post. Thus, posting at that time means better audience engagement for you.
According to the Hubspot research, the best times to post on Instagram are 1 pm and 5 pm – during lunch and at the end of the workday correspondingly. One of the best days to post on Instagram is Friday.
So, why are you waiting for the right moment? Go and get it right now!
Gaining a Storage for the Content
One of the most beneficial features of the Instagram calendar is managing all the content-related tasks in one place. In other words, you can edit and store the text, pick up the matching photos for the profile and schedule the posts within one system.
It is much more convenient than constantly switching the application to prepare all the components for a post. Content calendar significantly simplifies the Instagram posting process.
Making Use of Time-Sensitive Events
Sometimes you need to take a step back to see the whole picture. The same trick could be played with Instagram: to make your posts more personalized and catching, it's also important to stay present.
For instance, you can schedule different posts regarding different holidays, post some good tips, or any other useful insights that help you to keep the audience engaged.
In other words, people prefer getting different pieces of content instead of one topic: when you're running the fashion blog and have experienced moving into a new house, then you can also share it with your audience! This will help you to enlarge the audience and make use of the usual events to get more people's interest.
Of course, the Instagram calendar can assist you in planning all the pieces of your new content. For example, at one post you can share insights about picking up the most comfortable apartment, while at others showing the bathroom repair or new kitchen assembling.
Remember, time-sensitive events are not only the holiday season. And of course, you can always find something special for sharing with your audience.
Saving Up Your Time
Finally, the Instagram calendar can significantly reduce the time needed for preparing posts. This means you can prepare several posts for publishing in advance and just see the posts going live at the scheduled date. Even if you're planning to make several posts per day – just select the time for your posts to go live, no babysitting your feeds needed at all!
Furthermore, instead of making the separate posts individually, I recommend making several at once as soon as there is some inspiration for that. Basically, that's one of the best ways to make sure your content is diversified and provides a certain value for the audience.
Making Posts More Consistently
The key to success in any social media campaign is to post consistently.
The consistency of the posting increases the chance of the new audience to bump into your posts and start following you. After producing more posts for your audience, you will certainly generate more leads to your account. As we all know, that is one of the most essential ways of lifting your conversions.
Furthermore, to generate unique and catchy content, it's not even important to spend hours brainstorming. Just use the Fresh Essays service to get the content planned, and voila!
With the Instagram calendar, you can plan the content for the weeks ahead, and be confident about the account development.
What Are the Examples of the Instagram Calendar?
In fact, there are two ways for getting a perfect Instagram calendar for your marketing strategy:
1st: Make the one from scratch on paper, in a document, on cloud storage, etc. (I wonder if anyone still wants to do this manually);
2nd: Use a specific app (that's the exact method used by most bloggers so far).
Before you start planning your content, let's discover the most popular applications you can use for this purpose.
1. Trello
Being a board-based application, Trello is popular because of turning the boards into calendars. With having at-a-glance content planning, you can hardly miss anything. However, the software can sometimes be really challenging to use at first.
2. Google Sheets
Another good option for a content calendar is to coordinate the posts with your own google sheet file. In fact, it's pretty easy to use, but you still need to publish the prepared content manually.
3. Post Planner
Post Planner is a calendar everyone basically dreams about! Unlike the previous two, it allows scheduling the posts for any social platform, never running out of content, managing all the campaigns within a single system, and getting all the posts optimized to boost the reach. Additionally, you will be able to take full control of your post planning, and measure the success of your marketing strategy as well!
Sounds great, isn't it?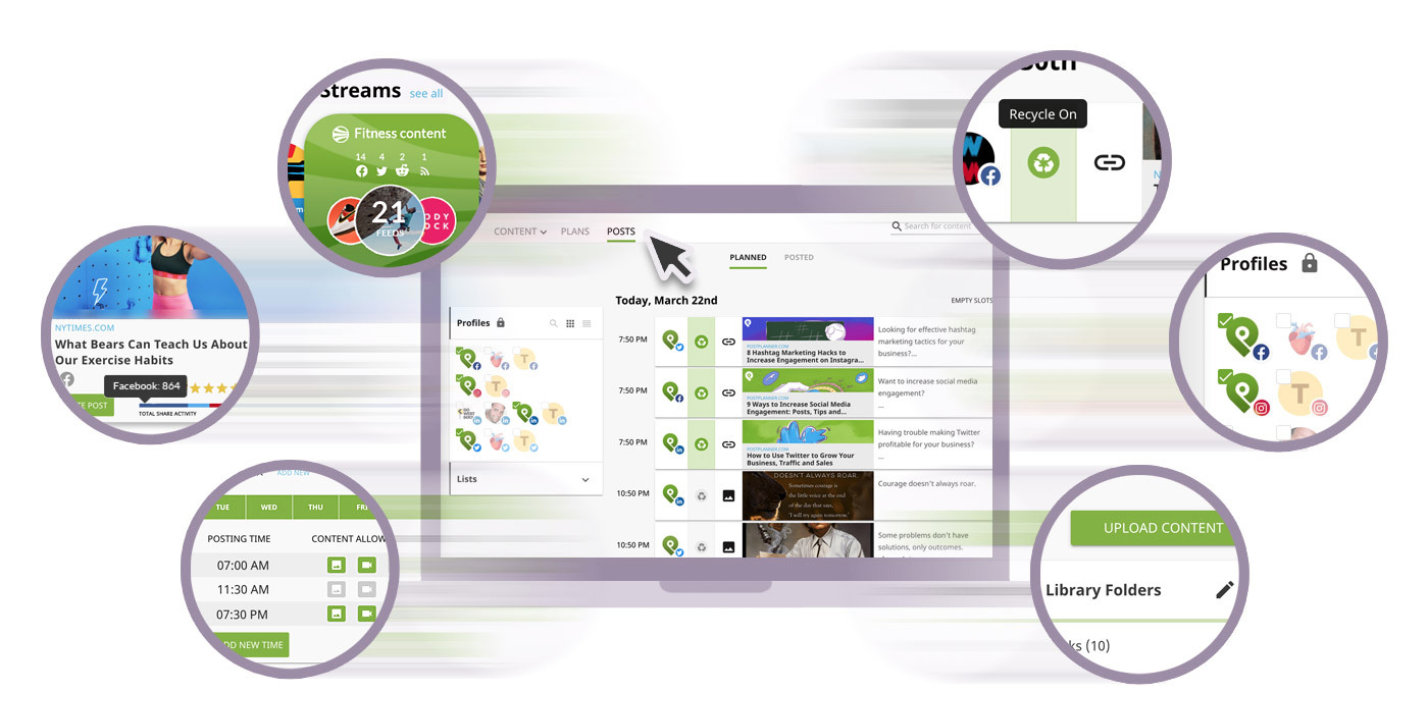 Make Instagram Content More Consistently: Use Post Planner
Needless to say, investing in the Instagram calendar can help you to make the most of your social media campaign.
Why?
Scheduling and automating your posts will help you to perform the tasks more effectively and generate the best leads by increasing the online presence.
By publishing the posts more consistently, you will not only generate more traffic for your account but also engage the audience with your content.
One of the best products to offer you – is the Post Planner, a comfortable and automated system created right for your social media marketing needs!
Your Instagram calendar starts with getting a Post Planner. No preparation is needed, just sign up for a free account today to experience all its features right now.
We've already given it a try! What about you?