In today's digital world, blogger outreach is an important part of any digital marketing strategy for a number of reasons.
You want to create a powerful presence on the Internet and improve your reputation.
Maybe stir up interest and enthusiasm among potential customers for a new product or service launch.
Or use creative bloggers to reach your target audience naturally, without targeting them with ads.
However, blogger outreach has become an art, and gaining bloggers' attention is becoming increasingly harder each day.
But there are a few tricks you can follow to increase your outreach campaign success rate.
Let's start with the basics.
Table of Content:
One central part of blogger outreach is finding the right email addresses. We suggest using Voila Norbert – the world's most accurate email finder. Sign up with this link to get 50 searches for free.
What is Blogger Outreach?
Blogger outreach is the process of contacting people with a significant online following so they can promote your product, service, provide backlinks or help increase brand awareness. Generally, this initial conversation begins with a cold email outreach campaign.
This outreach method of promotion is either worshipped or feared by businesses in all niches.
When done recklessly, most of your emails will get ignored or head straight to the spam folder. There are also plenty of horror stories online about influencers that are difficult to work with, not to mention how time-consuming the whole process is.
These factors can make the blogger outreach strategy rather daunting, especially to people who are just stepping into the digital marketing world.
However, if you're looking to build an online presence or create a passive organic traffic stream, partnering with bloggers and influencers is no longer a choice, but a necessity.
Just take a look at the ROI of influencer marketing compared to other channels.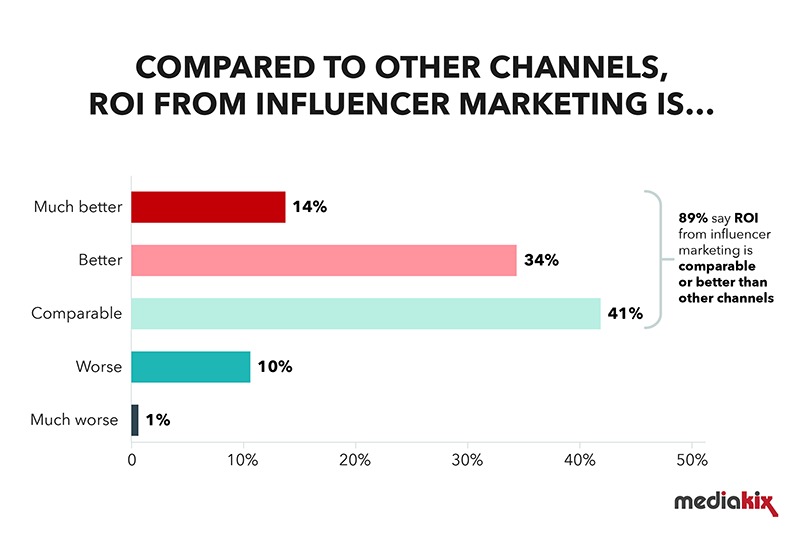 (Source: www.bigcommerce.co.uk)
And just as any other business partnership, it's all about finding the right people.
So how exactly can they help your cause, and are your blog outreach efforts even worth it?
Well…
Blogger Outreach is Important and Here's Why
As a business, you want people to talk about you, and as an SEO expert, you want them to link back to your website. Blogger outreach can give both of those things and more.
For example, a study by Variety shows that 60% of millennials find online influencers, bloggers, and YouTubers more relevant and trustworthy than actual celebrities. And the truth is that a big part of the E-Commerce market is targeted precisely towards the younger generation.
Just the Google Search term for "influencer marketing" is growing rapidly each month, hitting its peak just before the pandemic. And as the world slowly starts to recover, you can expect influencer marketing to also grow with it.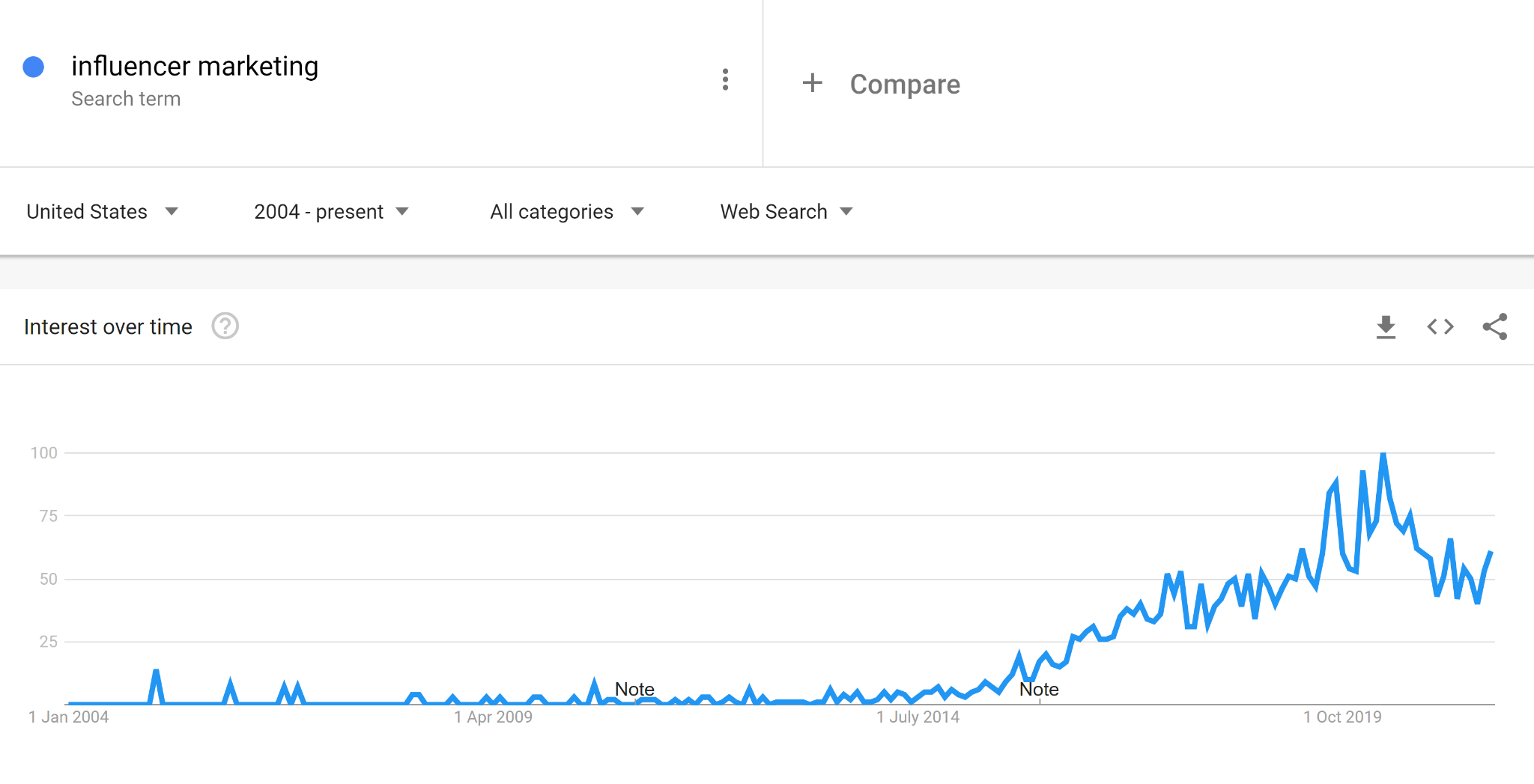 And if you're not impressed by nifty stats, here are some other blogger outreach benefits that are worth knowing:
It helps increase brand awareness;
It may increase your organic traffic to your site;
It's a great way to promote new products, apps, services, and events;
It helps with your backlink profile and rankings in the search engines;
It provides a gateway to other markets and niches;
The whole process is also a lot easier nowadays with a wealth of different outreach tools that can help scale your efforts significantly.
And it only takes 3 steps.
The Blogger Outreach Framework in 3 Simple Steps
As it's been established, relevant bloggers and influencers are voices with power, and to build those crucial relationships, you need to start with a good outreach campaign.
Here's the blogger outreach framework to get you started.
Step 1: Figure out your goals and create a list of influential bloggers
Why are you starting this outreach campaign?
What is your exact niche?
What are your ideal results?
These are the three most essential questions all blogger outreach campaigns should start with. If you're walking with no destination, then you're walking aimlessly, and no business can afford leisure.
For example, if you've taken to starting a blog and want to enhance your backlink profile, you would be looking for other bloggers that you can write a guest post for an influential blogger to get high-quality backlinks fast.
If you're looking to promote your new product or service, look towards sites in the same niche that have previously promoted similar products in the past.
Once you understand your goals, you can start making your list of people to reach out to.
If you're a beginner, look for people with websites from 30 to 60 DR (Ahrefs metric); and if you're an already established presence online, you can aim for 60DR+.
And while it's relatively easy to find websites, it's hard finding the person who will actually answer and be able to help you out. If you're not outreaching to an influencer through their private blog, website, or social media, then you're going to want to make sure you get the next step down pat. When reaching out to potential partners or influencers, implementing Page Experience Report tips can be a game-changer in enhancing the user experience and increasing the chances of a positive response.
Step 2: Find the Decision Makers and Their Email Address
In blogger outreach and influencer marketing, the most critical part of the process is finding the right decision-makers. Frequently, there will be a "Contacts" page, where you can find those details.
However, more often than not, it's a challenge to find the right contact details. If you just send your cold outreach email to a random contact or the general address such as info@websitename.com, you will be either ignored or just straight out rejected.
To avoid these common pitfalls, you can use outreach tools such as email finders. The Norbert tool is able to find anyone's email address and is also currently the most accurate tool on the market.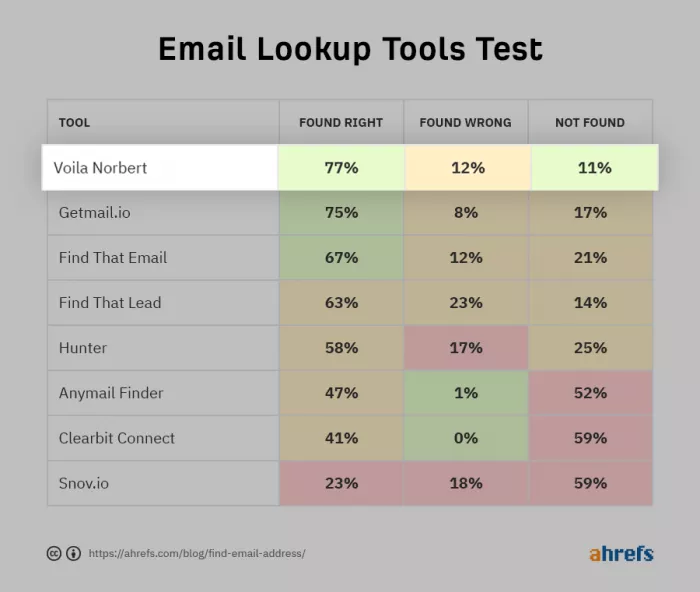 Depending on your goals, you will need different people. For link building, it's usually the Head Editor or the Head of Content. If you're looking to develop a social media partnership or promote a specific product or service, you will need a Marketing Manager or the Head of Sponsorships.
For example, you might find their LinkedIn profiles, but they usually hide their email addresses to avoid spam messages. This is where Norbert comes in.
One of the many great benefits is that you can insert a single person or a whole batch to help scale your efforts. The tool even gives you a percentage of how confident Norbert is that the email is the right one to ensure you can move on to the next step.
Step 3: Do your research and reach out
Another essential step in blogger outreach campaigns is writing the first email.
A blog with high domain authority likely gets inundated with hundreds of emails daily, mostly with guest post requests and social media offers. To stand out, you have to pay attention to the following things:
How engaging is your subject line?
Do you offer something of value to the blogger?
Is your app, product or service beneficial to the blogger?
Can this outreach email be the start of an excellent professional relationship?
If the answer is yes to most or all of those questions, you're certainly on the right track.
Now we get to the most extensive debate in the outreach industry: Do you personalize each outreach email, or do you send a bulk of 1000 emails at once and just hope for the best?
Since the goal of the blogger outreach process is to build a long-lasting relationship, I don't recommend going for the mass-send approach. After all, the effort of finding the correct email address is tough, even with Norbert helping you out.
And while you can send many outreach emails, you only get one chance to make a memorable first impression. So make that first email count.
There are also many great email templates out there that can help you with a variety of different blogger outreach campaigns.
But before you start crafting that email, research the blogger or decision-maker before you start writing. A simple Google search will show you their interests, the general tone of voice – whether you need to be more formal or casual, and maybe even what they need currently in terms of business partnerships.
Still, depending on your goals, there are different approaches to blogger outreach. Let's see what they are.
Different Ways To Do Blogger Outreach
Here are some of the most common methods of blogger outreach and some effective strategies to ensure maximum success.
1. Outreach for Link Building
Link building is the process of increasing the number of backlinks to improve your website's overall performance and domain authority. It can be done in many different ways – doing a guest post, journalist requests, link exchange, forum comments, business directories, and more.
When it comes to blogger outreach as part of your link building strategy, the most common practices include contacting the blogger with a piece of content that you want them to link towards.
For example, if you've just written a guide on writing academic papers. You want this to reach students around the world. So you reach out to bloggers in this niche and ask if they can include a link to your guide in their next piece or newsletter.
Make sure that you offer something of value – don't try to sell content that has nothing to do with their niche. If it works out, you can become an authority figure on this subject for them, and they can continue referencing your work with mentions and links in the future.
2. Outreach for Guest Posting
Guest post outreach is one of the link-building strategies many websites use. The idea here is that you contact a blogger who allows guest articles on their website, and you offer topics that will suit their niche and audience.
It's a win-win. Someone gets valuable content for free and you get some backlinks and exposure to their audience.
This process is time-consuming, but when done correctly, the pay-off is substantial. There's a reason why it's the most popular method for free link-building.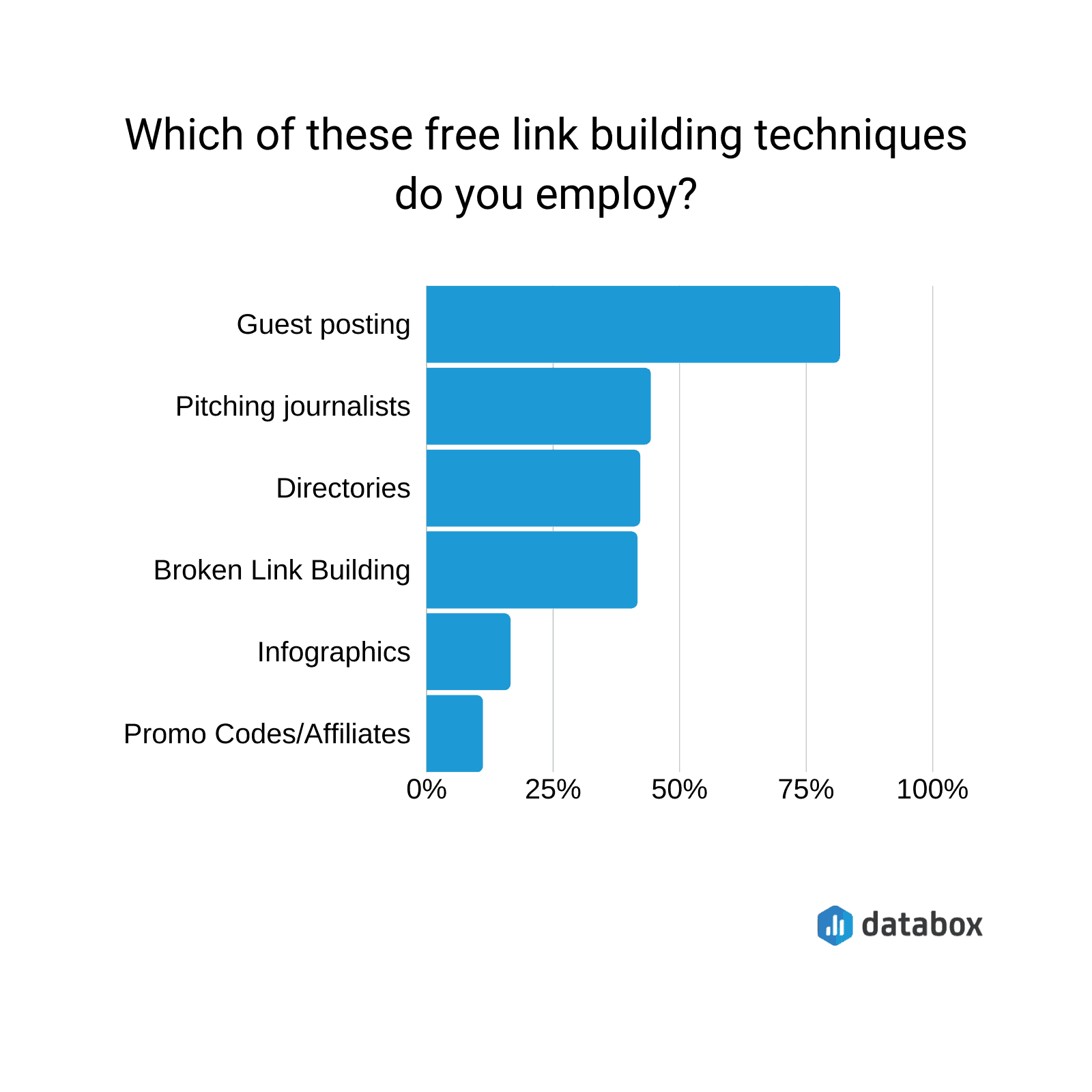 (Source: Databox.com)
When you do blogger outreach for a guest post, make sure that you offer a topic that they haven't already covered on their website. Do a content gap analysis and provide them with main keywords and the search volume to show the benefits of having that content on their site.
It's also important to include writing examples and previous collaborations, if applicable.
3. Outreach for Sponsorships
Alternatively, you can also reach out to bloggers and offer to pay them for all sorts of collaborations. Whether it's appearing on a podcast episode, sharing your website to their audience, or including a few links on their website.
In your outreach email for sponsorships, ensure the conditions of the collaboration are crystal clear so that there isn't any misunderstanding. By law, the blogger is obligated to flag any sponsored posts.
4. Outreach for Shoutouts
The great thing about shoutouts is that they are usually free.
For example, if you've just launched an app, you can contact a blogger or an influencer in a related niche and kindly ask for a shoutout as one of your key app marketing strategies. It's usually done through a blog post or a social media post like an Instagram story.
If you want this kind of blogger outreach method to be successful, you have to ensure that what you're promoting is relevant to them and establish a good relationship with the influencer beforehand.
They need to be sure that your product, piece of content, or service is worth the shoutout. After all, their word is their bond, and followings amassed by bloggers and influencers are typically based off trust
5. Outreach for Product Reviews
Every digital marketing strategy aims to retain existing customers and lead the potential ones to the bottom of the sales funnel.
And word of mouth is one of the best forms of advertising, simply because people trust the opinions of people they follow, know or support.
This is another reason why bloggers and influencers are so essential to your business. They have the most success in converting users into buying clients as they have already built that trust with their followings on their social media platforms or websites.
'Product reviews happen when you give a free copy of your product or service to the blogger in exchange for a review on their page' says Helga Dosa, Head of Marketing at Brand Rated. It can be a blog post, a social media post, a podcast review, or a video.
When you write the outreach email, you can increase your odds of success by including a catchy subject line that includes their first name. Always start with a genuine compliment, something that will show that you've been following their content. Then you can start by introducing the thing you want to promote online and how it could be beneficial for them.
And of course, whether you pay them or you don't, bloggers and influencers are not obliged to give a good review of your product or service. They are only obligated to provide their honest opinion so that their audience can make an informed choice.
The Bottom Line
Blogger outreach is the best way to market your product or service if you're looking for a new and innovative marketing strategy.
It can be done in many different ways, but the main takeaway points are:
Be human: Personalise your emails and focus on building long-lasting relationships.
Be accurate: Finding the correct contact and email is crucial and outreach tools such as Norbert can save you a lot of time and money.
Be creative: Make your subject line stand out and be thoughtful in crafting your email.
Be respectful: Nobody likes time wasters, so write concisely and get to the point.
And most importantly, be honest!
People, especially bloggers and influencers, can smell something off a mile away. If you're upfront about your outreach intentions and follow the framework above, there wouldn't be a reason to not see results.
Oh, and before you go, don't forget that you can sign up to Voila Norbert with this link to get your first 50 searches for free and see how it can help your blogger outreach efforts.
Further Reading:
Author's Bio
Jessica La is an AI Consultant with over six years in the start-up, data, and content industry. In her blog ByJessicaLa.com, she helps individuals develop their online careers and provides the tools and research for innovation and growth. She often reads literature, mostly writes researched articles, and always has copious amounts of coffee.