ADD_THIS_TEXT
For cold emails, a 3-5% open rate is considered a slam dunk.
That's pretty low for a slam dunk.
But unfortunately, that's the nature of cold emails.
It's incredibly difficult to get a cold prospect to open your email, let alone click through to your site or provide a response.
Especially considering first impressions are formed within the first seven seconds.
But you can do a lot better.
Here's how to not mess up your first emails to cold prospects to ensure a better open, click and response rate.
1. Create Better Subject Lines
Subject lines should be the bread and butter of your email campaign.
A good subject line catches the attention of a recipient.
But at the same time, it shouldn't be clickbaity like the title of a Buzzfeed article.
You know the type that 'Will Change Your Life' and 'Make You Say To Yourself, "Wow, That's Amazing."'
Because subject lines have a significant effect on open rates.
47% of people open emails based on the subject line alone.
And 69% report emails as spam based purely on the subject line.
Everyone will scan the subject line and who the email is from before clicking.
You can't control their brand awareness, but you can control the message.
So how do you compose an attractive message via the subject line?
Here are a few good examples:
Pose A Question

A question will immediately pique the curiosity of the recipient.
If they feel they have an answer or an opinion on your posed question, then they will see a chance to share their expertise.
Therefore, they will be more likely to open your email.
Examples:
Can you help us out?

Marketing Question for [Recipient]…

How safe is your data?
Make It Personalized
A personalized subject line assures the recipient that the email is not generic spam.
It is addressed directly to them and therefore specifically concerns them.
After analyzing 24 billion emails, MailChimp found that a personalized subject line increases open rates:

Including their first and last name works best.
Examples:
Invitation for [Name]

Special Offer for [Name]

[Name], what would you do with an extra day off work?
Show Your Connection

A connection or a perceived connection makes your email a little less cold.
The recipient doesn't have to be a close connection like an old school bud or even somebody you have met previously.
You might see that they attended a conference you did. They might be part of the same online community as you etc.
If you have a genuine connection, great.
But the most tenuous of connections placed in your subject line will also give you more credibility.
Examples:
Saw Your Comment on [Forum]

Mutual Connection with [Name]

[Recent Event] was great, don't you think?
Overall, if you want your email to be opened, you should make sure that it's personalized and piques the curiosity of the recipient.
2. Focus on the Benefits
Imagine you want to buy a new computer. You're a software newbie, so you have no idea which make or model to buy. 
So you start to do your research with cheap email marketing software comparisons. See an ad that tells you about a computer's memory storage, processor speed, and graphics card.
Does that mean anything to you? Nope.
Instead, what you want to hear is that the computer will help you get work done faster with less lag, it will display images and games with ease, it will store all of your files securely and so on…
If Apple had focused on the technical features, instead of the benefits, do you think they would have sold as many iPods?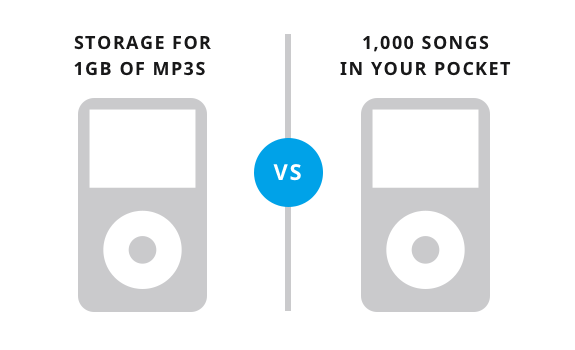 Apply this concept to your cold emails. Don't simply list all of the complex features of your product or service.
Customers and prospects are not interested in that.
They want to know what value you can bring to them.
Don't make the mistake of listing a bunch of features in your initial emails. Instead, make it rich in benefits.
Slack does this particularly well in their messaging:

Slack's features streamline communication amongst teams. But it's their benefits that are shown here. A reduced number of emails and meetings means a lot of time saved for you.
Here's another great example of how you can emphasize the benefits:

As you can see, Stat-ex has identified the pain point, then emphasized how their app solves those problems.
There's no long list of features, but there are benefits:
– 'saving hours of time in your day to day efforts'
– 'help them consistently overachieve their demand generation targets'
– 'simplify processes so your team can focus on results'
How can you emulate this?
Start by creating a feature-benefit matrix. List your features and benefits in a table like so:
This will encourage you to concentrate on the benefits and create a call to action related to such benefits to include in your first emails.
3. Give Before You Take
When writing cold emails, you should always give something to the recipient before you try to take from them.
Because let's be honest, everyone has that friend who they might not see for six weeks, then calls up and asks for a favor.
Cold emails from perfect strangers that ask for a favor are just as annoying.
And they can go wrong pretty quickly. Take a look at this example: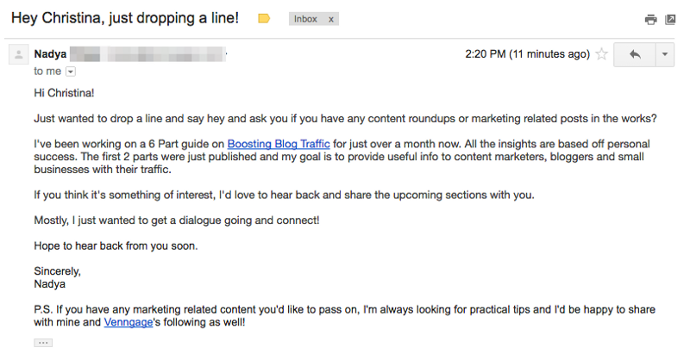 For starters, the recipient of the email is Chris Handy, founder of an inbound marketing agency.
His name is not Christina…
So the sales rep is not off to a good start here.
The other problem is that the sender simply does not offer any value to Chris before asking for his time. She puts the emphasis on what she's doing and what she's looking for.
Handy told HubSpot,

"In the lens of an email received, I view this as a respect issue. Email is cheap, but a prospect's time and attention are definitely not. She lost the right to ask for my time when she didn't give me any of hers in the form of 10 seconds of research to understand who she was emailing."
Clearly, you need to do your homework and avoid selfish requests if you hope to have any luck with prospecting emails.
If you genuinely offer value in a personalized email, then you're more likely to get a response.
Here's a stunning example that Yesware received:

First of all, this is a great blueprint for cold emails.
They propose a big idea (star), support it with a chain of facts and then give a call to action (hook).
This email is also pretty much the polar opposite of the above doozy sent to Chris Handy.
There is a huge amount of value on offer here.
They're saying, 'We're offering you a chance to save a bunch of time and money, and we're giving you a free trial while we're at it.'
It might take more time to put together the materials for an email like this.
But the end product is fantastic.
4. Get To The Point, ASAP
Some cold emails read like the sender's autobiography.
All of the details they include are ridiculous…
They might as well tell us their favorite movie to watch on a rainy afternoon and the lowdown on their cheese preferences while they're at it.
They're that much of a snoozefest.
It's better to keep it short and to the point.
A Boomerang study of 40 million emails showed that 75-100 words get the best response rate:

How do you avoid producing the kind of email that bores readers to tears?
Sujan Patel, Co-founder of Mailshake, puts it best…
"Cut the crap."
Sujan offers three steps for cutting the crap:
Be original – Customize your emails, so they fit your tone of voice and goals.

Generous – Keep the focus on the prospect and the solution to their problem.

Be clear – Keep it sweet, simple and easy to understand.
It's okay to be blunt in your emails. Busy people would rather have it that way.
Want to see how it works IRL?

Yesware gets a strong response rate from this short and sweet email.
You need to forget the fluff as brevity can lead to greater engagement.
5. Avoid Over-Personalizing
Personalizing emails is the right thing to do.
It helps advance customer relationships, provides a better brand experience, and increases customer satisfaction.
In fact, 88% of marketers state measurable improvements with personalization.
So, what's the problem then?
Salespeople and marketers often do it terribly.
Let's take a look at an example:

Yes, it's personalized. But it's quite clearly based on a template.
It's the typical 'I saw your article on XYZ and loved it!' email.
It's as transparent as Casper the Friendly Ghost for anyone that knows anything about sales or marketing.
That's why the recipient of this email simply deleted it straight away.
Anyone can copy and paste a template like this with slight alterations for different prospects.
It's basically Outreach for Beginners. You need to do better.
There are several routes you can take instead to improve the way in which you personalize cold emails.
Do Better Research

Rather than simply saying, 'I saw your post and loved it,' which may or may not be true; this person offers real insight.
See point 3. They would only know about the desires of the recipient's audience if they were a genuine fan or had genuinely done a decent amount of research.
Try sending out highly personalized emails like this one to fewer prospects, as opposed to less personalized, template-based messages to many.
Get Creative

You have to stand out from the crowd.
The people you're sending your cold emails and pitches to, probably receive several per day.
Be different and get noticed.
For example, Andy Crestodina, co-founder and strategic director at Orbit Media took an extremely creative route to get the attention of Neil Patel.
He actually wrote a blog post entitled, "6 Reasons Why Neil Patel Should Call Me" and had it sent over to him. If you're reaching out to bloggers be sure you have their correct email address. 
Now if that's not personalized, who knows what is!
Personalize Based On Their Needs

In the above example, the sender shows they are familiar with the recipient. They are therefore able to express exactly how their debugging product can help the recipient.
Instead of taking the cheeseball flattery route. Try a different tack and personalize according to the prospect's pain points and how you can help them.
Obviously, you shouldn't stop personalizing emails. You just need to use the above tactics to personalize them better.
Conclusion
Turning cold emails into warm leads isn't easy.
But you can craft a winning email. You can do everything in your power to boost the chance of success.
It all starts with the subject line. That's the first thing a prospect is going to see, so you better make it good.
When it comes to the contents of your email be sure to sell the benefits of your offer as opposed to the features.
Also, offer the recipient of your email value before asking for something.
Make it clear, short and simple to have the maximum effect.
Finally, personalize in the right way instead of sending out a generic 'I loved your article' type of line.
Take the first step. Scrap your template if it's not working for you.
ADD_THIS_TEXT